Associate fresh ingredients and follow our gourmet ideas are the hallmarks of this week. Colorful, fragrant, quick to prepare. This Nordic Fish Stew is a generous recipe, easy to digest and loved by everyone !
Ingredients for 4 Servings:
600 g ( 1 1/4 lb) pieces of nordic fish (Cod,Hake and Salmon).
450 g ( 2 1/2 cup) sliced mushrooms
200 g ( 8 oz) cut flat beans (optional)
1 onion sliced in thin strips
2 tablets of court-bouillon diluted in 1 cup water
1 dl ( 3 oz) dry white wine
1 dl ( 3 oz) whipping cream
1 tbsp corn starch.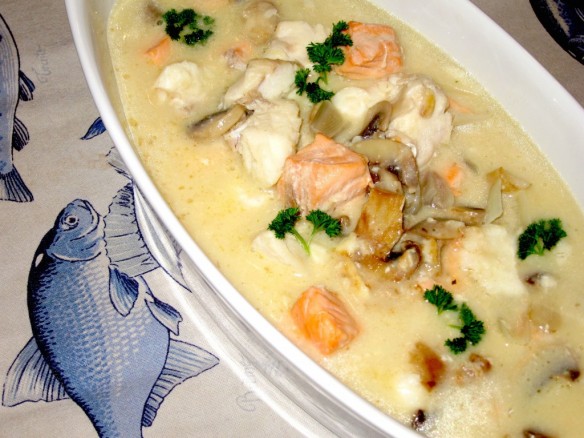 In a pot, heat the wine and the onion slices and let reduce it for 5 minutes. Add the sliced mushrooms, cornstarch diluted into the cream then add the broth and cook for 5 more minutes.
Add the three kind of fish cut in pieces and cook for 15 minutes more over medium heat, covered. Meanwhile, cook the flat beans chopped  for 5 minutes in boiling salted water. Drain the beans, add them to the creamy fish stew if you wish and serve immediately.
If you prefer, you can serve the stew with some small boiled potatoes and… Bon Appétit !

Print / Imprimer