Ingredients for 4 people :
2 zucchini
1 onion
2 garlic cloves
1 Tbsp flour
2 Tbsp of milk
3 large eggs
40 g (2 Tbsp) of Parmesan
Salt and freshly ground pepper
2 Tablespoons olive oil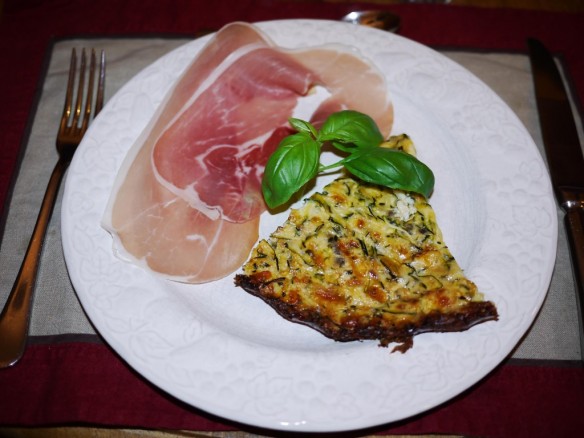 Wash and dry the zucchini and grate with a coarse grater. Put them in a colander, add salt and let drain for 30 minutes. Rinse then dry them with the fist to extract excess water. Also grate the onion and chop very finely the two garlic cloves.
Preheat the oven to 180 °C (375°F). Put the flour in a bowl and dilute with milk. Add eggs, onion, garlic, zucchini and parmesan. Add salt and pepper.
Grease a pie plate or baking dish. Pour the omelette to 1 to 1.5 cm thick and bake for 25 minutes. After this time, brush with olive oil and put back in the oven for about 5 more minutes to get the top golden brown.
You may enjoy it hot, warm or cold with a green salad and some ham.

Print / Imprimer