You will love this clever, seasonal version of the classic Tiramisu dessert. Here, coffee is substituted by fresh strawberry juice, which makes it a real delight !
If you wish, you can enhance the flavour with some liqueur.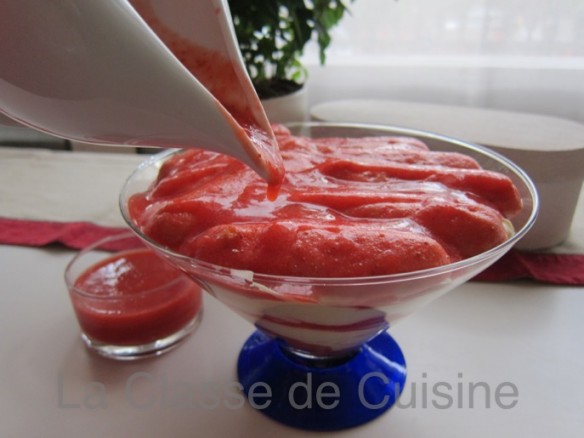 Serves 6                            Preparation Time 20 minutes + 2 hours
4 free range eggs
8 Tbsp (120 g) sugar
1 tsp powdered vanilla
1 cup (250g) mascarpone
1 lb (500 g) strawberries
6 oz (175 g) finger biscuits or "biscuits roses"
Separate the egg yolks from the whites. Beat the yolks with the sugar and vanilla until the mixture whitens. Add the mascarpone and mix at low speed for 2 minutes.
Wash and hull the strawberries. mix the strawberries to obtain a thick juice. Dip the finger biscuits in the strawberry juice until well soaked and place some in the bottom of a dish.
Add a layer of cream, a layer of biscuits, alternating and finish with a layer of biscuits by pressing them in the cream. Refrigerate for 2 hours. To serve, offer the rest of the strawberry juice as an accompaniment.

Print / Imprimer