Even if winter and cold weather have settled, the stalls are not sadly provided. We can start to prepare these nice and cute cup Cakes…
Ingredients for 6 to 8 people:
350 g (14 oz or 2 1/2 cups) plain flour
1 tsp baking soda
1 1/4 tsp salt
2 tbsp unsweetened cocoa powder
360 ml (1 1/2 stick) butter room temperature
350 g (1 1/2 cup) granulated sugar
250 ml (10 oz or 1 cup) buttermilk
1 tsp vinegar (white or apple cider can both work)
2 large eggs
1 1/4 teaspoons vanilla essence
1 tbsp red food color
300 g (1 1/3 cup) cream cheese, room temperature
400 g (2 1/4 cup) icing sugar, sifted
200 g (1 cup) butter, room temperature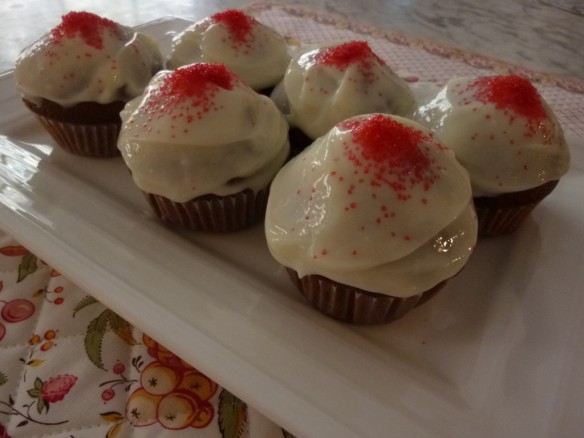 Preheat the oven to 180°C/396°F. Line a 16 space fairy cake tin with paper baking cases.
Sift together the flour, bicarbonate of soda, salt and cocoa powder into a bowl and set aside.
In a mixer, mix the butter and sugar until combined. Add the eggs,one at a time. In an other bowl pour the buttermilk, food colouring, vinegar, vanilla and mix well. Add the dry ingredients a little bit at a time alternating with the moist ingredients, that is to say the buttermilk preparation and mix on low speed, scraping down the sides of the bowl occasionally. Mix until just combined and do not over mix.
Pour the batter in the paper baking cases and bake for 20 to 25 minutes or until a wooden stick inserted into the centre of a cake comes out clean. Allow to cool on a wire rack.
For the icing :
Whip the butter and cream cheese together in a mixer until creamed. Gradually add the icing sugar to the mixture, scraping down the bowl as needed. Add a little bit of vanilla and mix until combined.
Spread the icing over the top of the cakes and serve.

Print / Imprimer