For this Plum Marmelade, use really ripe plums. The brown sugar and ginger will add a sweet, dark and spicy flavour to this crepe dessert. laclassedecuisine.com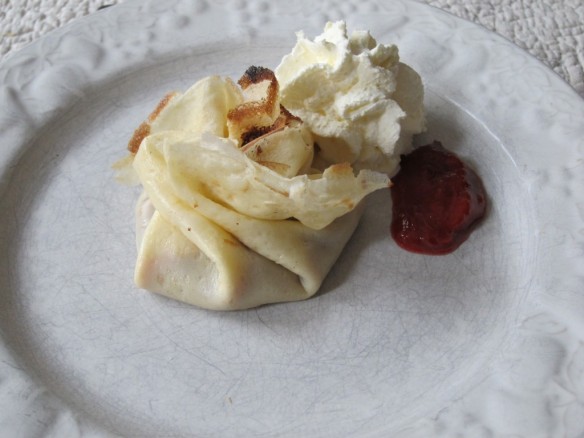 Serves 4                        Preparation 10 minutes        Cooking time 20 minutes
3 Tbsp. flour
1 egg + 1 yolk
1 cup milk
1 Tbsp butter
Vanilla extract
11/2 pound prunes
1tsp. ginger
Juice of half a lemon
3 Tbsp. brown sugar
Scald the prunes for 30 seconds. Peel and pit the prunes then cut them in pieces.
Put them in a saucepan with the vanilla extract, the ginger and the lemon juice. Powder with 2 tbsp. sugar.
Put the flour in a bowl with the rest of sugar, the eggs and slowly add the milk to obtain a crepe dough. Melt the butter and add it to the dough. Put aside.
Cover the saucepan with the prunes and cook at very low temperature for 15 minutes. Cook the crepes like a large pancake but not as thick, pour a portion prune marmelade in the middle and it and tie with a piece of lemon peel. Serve immediately with some whipping cream if you like.

Print / Imprimer