Ingredients for 4 people:
2 teaspoons instant coffee
1 teaspoon hot water
120 g melted dark chocolate
400 g soft labne cheese
1 packet vanilla sugar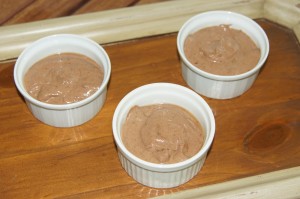 In a medium bowl, mix coffee and water. Add the melted chocolate, soft cheese and vanilla sugar. Mix well until smooth.
Divide the cream into 4 dessert dishes or simply transvase it in a pretty bowl and let stand at least 30 minutes in the refrigerator.
This dessert is even better, with fresh red fruits.
You can also prepare this cream the day before and refrigerate until ready to serve.

Print / Imprimer