We know eggs can be cooked in a thousand different ways.That's why I want to tell you about a tasty dessert, ideal after a light meal, even for those watching their cholesterol. Enjoy the delicious perfumes pod a vanilla pod with this recipe and this Egg Custard recipe that will delight your senses at laclassedecuisine.com !
Ingredients for 4 People:
3 large free range eggs
150 ml (2/3 cup) milk
150 ml (2/3 cup) single cream
50 g 4 Tbsp) sugar
1 vanilla pod
1/4 tsp Orange blossom Water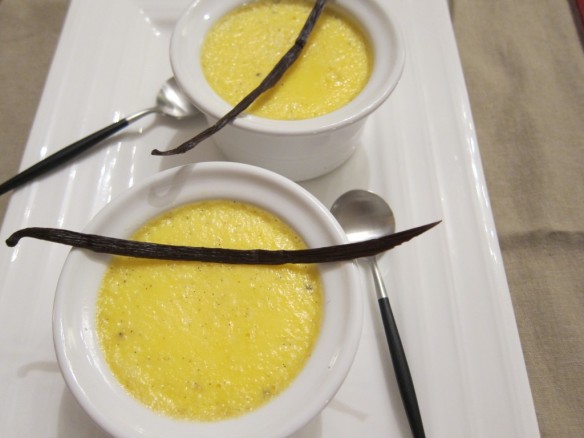 Boil the milk and single cream with the vanilla bean cut in half. Add sugar and orange flower blossom water. Turn off the heat and cover.
Preheat oven to 150 ° C. Break the eggs in a large mixing bowl and beat them. Gently pour over the still warm milk while stirring. Remove the vanilla pod.
Divide your mixture into 4 ramekins and bake in a water bath for about 30 minutes.
Serve chilled and decorate with a hint of vanilla bean.

Print / Imprimer