Ingredients for 4 people :
5 Apples Granny Smith type
20 g ( 1 Tbsp) butter
40 g ( 2 Tbsp) sugar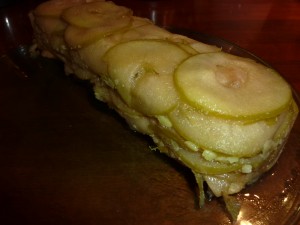 Slice the Granny Smith apples with a [amazon_link id="B000YDO2LG" target="_blank" container="" container_class="" ]Mandolin Food Slicer[/amazon_link].
Stack them in layers in a buttered terrine with the  sugar, that you spread between the different layers of apples.
Bake for 3 hours at low temperature of 120 ° C ( 248°F)  in a water bath and then let stand for 24 hours.
Through the action of pectin, we obtain a gellified and melting terrine.
Serve sliced ​​as is or with a vanilla custard.

Print / Imprimer