Ingredients for 6 to 8 people :
180 g (3/4 cup) flour
180 g (6 oz) butter
10 tablespoons sugar or more if you like it sweet.
1 pinch of salt
2 tablespoons iced water
Juice of 4 lemons
3 eggs
grated zest of 1/2 lemon
2 gelatine leaves soaked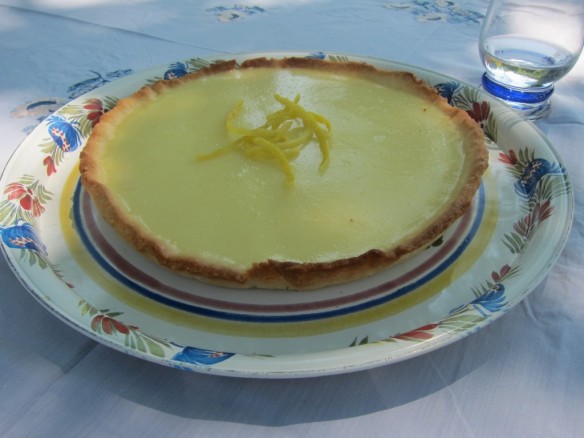 In the bowl of a food processor, add flour, 100 g (31/2 oz) butter, 4 tablespoons sugar and a pinch of salt. Mix 30 seconds. Add water and blend again for 30 seconds to form a smooth dough ball. Wrap it in cling film and put aside in a cool place.
Preheat oven to 200 ° C.(400°F).
In a saucepan, place the lemon juice, lemon zest, beaten eggs, beaten with a mixer, the remaining butter and the last 6 tablespoons sugar. Turn heat on to low and stir until the first bubble. Put away from heat, add the drained gelatine, stir vigorously then let cool.
Roll out the dough, place it in a pie pan, prick the dough with a fork and then bake it for about 20 minutes. Let cool completely.
Pour the lemon cream on the cold pastry, decorate with some whitened lemon zest, if you want, then leave to cool in the refrigerator for a few hours, or better overnight before serving and enjoying.

Print / Imprimer