These delicious Florentine biscuits are a disc of caramel with candied fruits, toasted almonds and coated in rich dark chocolate. Try it because it is very easy to make and soooo good !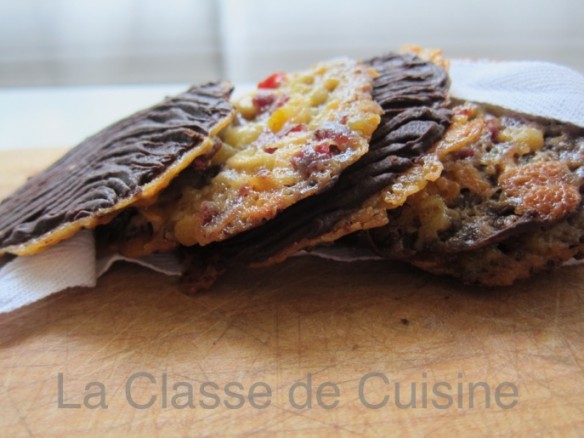 12 Florentines                     Preparation & Cooking Time 10 + 10 minutes
1 3/4 oz (50 g) butter
1 3/4 oz (50 g) sugar
1 3/4 oz (50 g) golden syrup
1 3/4 oz (50 g) plain flour or rice flour if gluten free
1 oz (25 g) dried cranberries, finely chopped
1 3/4 oz (50 g) candied orange peel, finely chopped
1 oz (25 g) almonds, finely chopped
7 oz (200 g) dark chocolate at 70% cocoa
Preheat the oven to 350°F (180°C). Line 2 baking trays with parchment paper and set aside.
Add butter, sugar, golden syrup to a small saucepan and heat gently until the butter has melted. Remove from the heat and add the flour, the chopped cranberries, candied peel and nuts to the pan. Stir well to mix.
Spoon 6 teaspoons onto each of the baking trays and bake for 8 to 12 minutes or until golden brown. Allow to cool in their trays before transferring to a cooling rack.
Melt the chocolate in a double boiler, then spread a little melted chocolate over the flat base of each florentine and leave to cool slightly before marking a zigzag in the chocolate with a fork. Leave to set, chocolate side up and store in an airtight container before serving.

Print / Imprimer