Ingredients for 6 to 8 People:
250 g (1/2 lb) dark chocolate
60 g (1/2 cup) milk chocolate
250 ml (1 cup) double cream
3 eggs + 1 egg white
175 g (1 1/2 cups) sugar
3 Tbsp cornstarch
2 Tbsp chopped blanched almonds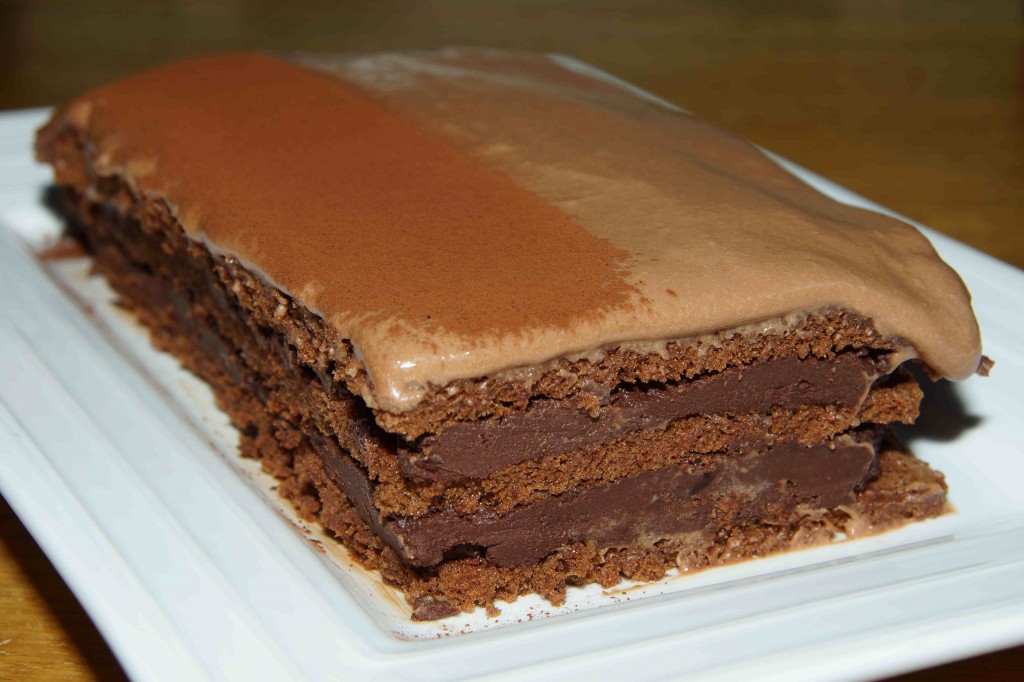 Melt 100 g (3 oz) dark chocolate in a double boiler. Coarsely chop the almonds. Separate the yolks and whites of eggs. Whiten the egg yolks with 100 g (1/3 cup) sugar, stir in melted chocolate, cornflour, chopped almonds and egg whites and turn your batter until smooth.
Spread the dough with a spatula on a cooking sheet covered with parchment paper to get a biscuit about 36 x 26 cm (14 x 10 inch).
Bake for 10 minutes in a preheated oven at 180 ° C (356°F). Turn the cake upside down, peel off paper and cut the cake into three.
Chop remaining dark chocolate and milk chocolate apart. Boil the cream, pour 200 ml (3/4 cup) on dark chocolate and the rest of milk chocolate. Let cool, then add the milk ganache on stiffed egg white and mix gently. Place the 2 ganache in the fridge for about 2 hours.
Spread the black ganache on two bands of biscuit and spread the milk ganache on the third band then overlap each one.
Store in the fridge 3 hours or more. Recut the edges then cut into six parts or into cubes before serving. You can also sprinkle the top of the ingot with cocoa!

Print / Imprimer