Ingredients for 4 people:
3 eggs
40 g ( 2 Tbsp) sugar
75 g ( 4Tbsp) Chestnut flour
90 g (1/3 cup) butter, melted
75 g (4 Tbsp) potato starch
1/2 teaspoon baking powder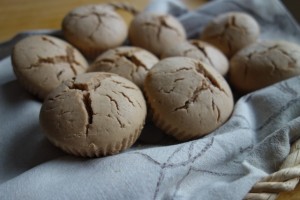 Preheat oven to 180 ° C (375°F). Whisk the egg yolks with the sugar and then add the chestnut flour by sieving it then add the melted butter. Mix well. Add the potato starch and baking powder and mix again.
Whisk the egg whites until stiff and fold into the mixture. Grease and flour small metal molds or paper boxes.
Fill your dough to 3/4 and bake for about 15 minutes.
Serve for breakfast with jam or at lunch or dinner with ham or other suggestions that you would think of … Bon Appetit!

Print / Imprimer