These tasty Appetizers with juicy tomatoes and fragrant basil and olives are ideal for serving with a drink outdoors, or before an evening summer meal !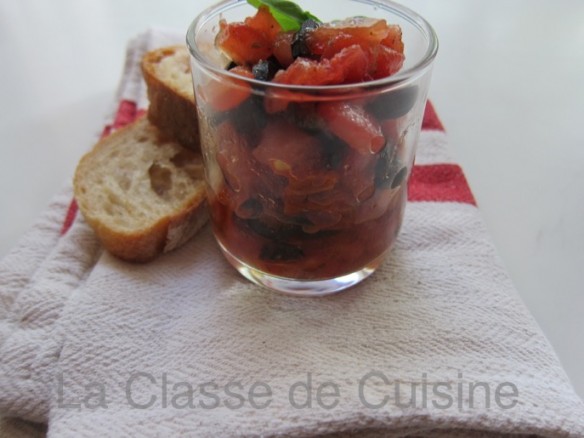 Serves 4                             Preparation 30 minutes
1/4 cup (100 g) pitted black olives
8 nice and round tomatoes
3 dried tomatoes
2 tsp. oregano
4 Tbsp olive oil
Salt and freshly ground pepper
Chop the olives coarsely. Remove stems and scald tomatoes 30 seconds then peel and remove the seeds. cut the flesh into small cubes.
Mix the diced tomatoes with the chopped olives in a bowl. Add salt, pepper and oregano and olive oil. Mix gently. Top with some fresh basil leaves.
Serve in small glasses and enjoy with good crusty country bread.

Print / Imprimer