This makes a delicious appetizer, served chilled. Use soft and fresh goat's cheese for a creamy filling !
Serves 4                            Preparation 20 minutes
100 g (3 1/2 oz) of mixed nuts, hazelnuts and pines, chopped
200 g ( 7 oz) fresh goat cheese
1 Tbsp chopped chives
8 slices of Prosciutto ham
1 pinch of Salt and freshly ground pepper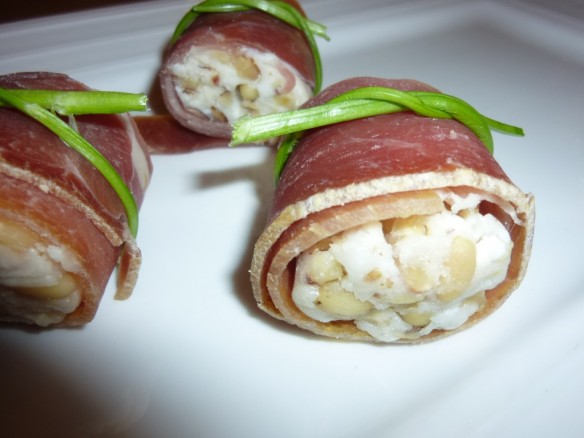 Mash the goat cheese with a fork, add the mixed nuts and chopped chives. Lightly salt and pepper. Mix well.
Spread the slices of ham and place a big tablespoon full of the cheese mixture with dried fruit on top of the slice and roll tightly.
Wrap in a plastic foil and refrigerate for a couple of hours. Just before serving, remove the plastic foil and cut the rolls into pieces. Wrap a strand of chives around if you wish and place in a dish before serving.

Print / Imprimer