Ingredients for 6 people:
3/4 pounds brousse (Corsican fresh cheese) or Ricotta cheese as an alternative.
5.3 ounces  Goat cheese
3 red peppers
1 yellow pepper
1 tablespoon olive oil
Salt and white pepper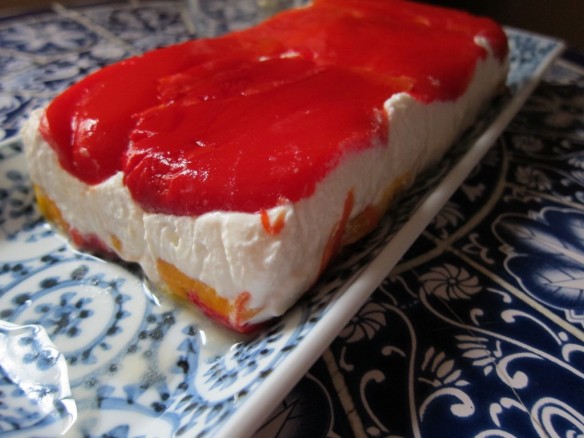 Place peppers under the broiler, turning frequently until the skin blackens and swells. lock them 10 minutes in a plastic bag, then peel and remove seeds. cut into wide strips and dry them.
In a bowl, work the brousse cheese with a fork and then add the Goat cheese without the crust then add olive oil. Salt and pepper. Line a rectangular baking dish or mould with paper stretch (Cling Film) and exceed far in doing.
Spread half the red pepper strips in overlapping them slightly. Pour half the cheese mixture over and line with strips of yellow pepper. Top with remaining cheese and finish with the last red pepper strips.
Fold the sides of the plastic film and refrigerate for 2 hours.
before serving, cut into equal parts and serve sprinkled with a drizzle of balsamic vinegar if you like.

Print / Imprimer