L'Oeuf est un produit agricole servant d'ingrédient entrant dans la composition de nombreux plats, dans de nombreuses cultures gastronomiques du monde.
Le plus utilisé est l'oeuf de poule. Les œufs utilisés en cuisine sont généralement fécondés. Fécondés ou non, ils sont utilisés à l'état frais. Aliments peu caloriques, les œufs sont une source alimentaire précieuse. Ils sont notamment riches en protéines.
Au moment de la ponte, l'oeuf a ce qu'on appelle un "vernis" qui assure la conservation de l'oeuf. Il ne faut donc pas laver les œufs sous l'eau, ceci augmentant la perméabilité de leur coquille et laissant la voie ouverte aux micro-organismes. Si les oeufs de ferme sont sales, il faut juste les essuyer avec un chiffon humide.
Il est souvent conseillé de ne pas conserver les œufs au réfrigérateur car le changement de température provoque une condensation sur la coquille qui permet aux bactéries de la traverser plus facilement. Enfin, ne consommez jamais les œufs fêlés. Il n'y a qu'une seule chose à faire : les jeter.
Maintenant pour profiter pleinement des oeufs que vous trouvez maintenant en grande quantité et de belle qualité, essayez sans tarder les Oeufs Cocotte-Carotte, les Oeufs Brouillés façon Prestige, les Oeufs en Meurette pour un diner festif ou encore mes recettes d'Omelette Chausson Anisé sans oublier l'Omelette Folle à la Roquette et…
A très bientôt sur laclassedecuisine !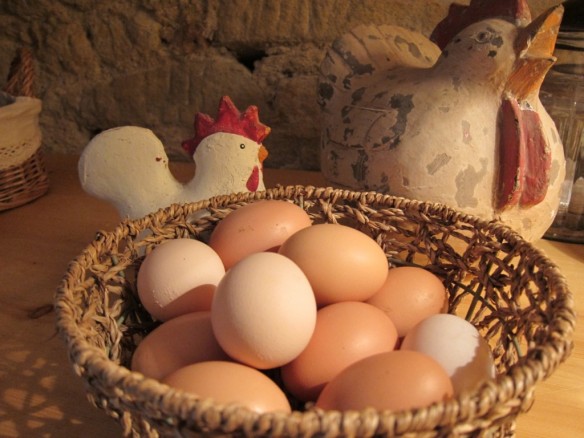 The egg is an agricultural product used in the composition of many dishes in many culinary cultures. The most used is the chicken egg. Eggs used for cooking are usually fertilised. Even when they are not fertilised, they are used fresh. Low in calories, eggs are a valuable food source. They are particularly rich in proteins.
At the time of laying, the egg has what we call a "varnish" that ensures the preservation of the egg. It is therefore not necessary to wash eggs with water, as this would decrease the permeability of the shell and leave the way open to micro organisms. If farm eggs are dirty, just wipe it with a damp cloth.
It is often advisable not to keep eggs in the refrigerator because the change in temperature causes condensation on the shell allowing bacteria to more easily pass through. Finally, never eat cracked eggs. There is only one thing to do: throw them away.
Now to enjoy eggs that you can find now in large quantity and of good quality, try without delay these recipes: Carrot Egg Cocotte, Scrambled Eggs Prestigious Way and Poached Eggs in Red Wine also called "Egg Meurette" for a festive dinner or my Omelette recipes like this Turnover Aniseed Omelette and without mentioning the Crazy Rocket Salad Omelette and…
See you soon at laclassedecuisine.com!