Nous savons tous que du point de vue botanique, la tomate est un fruit, et pourtant considérée comme un légume. Nous savons aussi que son principal atout nutritionnel est sa richesse particulière en vitamine C et lycopene qui n'est autre que des substances anti oxydantes mais aussi qui donne à la tomate saveur et couleur dans bien des plats.
Sachons aussi que la pelure de la tomate contient davantage d'antioxydants que sa chair et ses graines. Dans la sauce tomate ils sont plus concentrés, ils contiennent généralement plus de nutriments et de composes antioxydants.
Alors n'hésitez plus et consommez les tomates sans vous priver, qu'elles soient présentées crues comme entrée avec ces Tomates Cocktail Farcies aux 2 Fromages ou cuites comme dans cette Tarte aux Tomates, Pesto Rouge & Gruyère ou encore en soupe avec cette Soupe Froide de Tomates aux Billes de Chèvre. Alors retrouvons-nous et…
A très bientôt sur laclassedecuisine.com !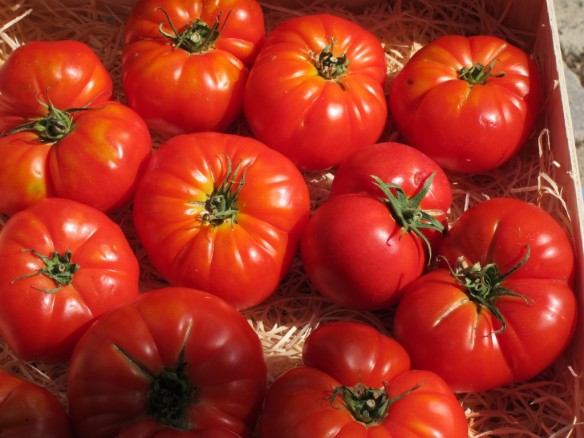 We all know that from a botanical point of view, the tomato is a fruit, yet considered a vegetable. We also know that the main nutritional advantage is that it is particularly rich in vitamin C and lycopene which are none other than anti oxidant substances and which give the tomato flavor and color to many dishes.
Also of note is that the skin of the tomato contains more antioxidants than the flesh and seeds. In tomato sauce, more concentrated, they generally contain more nutrients and antioxidants compounds.
So go ahead and eat tomatoes without depriving yourself, whether raw with these Cocktail Tomatoes stuffed with two Cheeses, or cooked as in this Tomatoes, Pesto Rosso & Gruyère Cheese Tart, or in soups with this Cold Tomato Soup with Goat Cheese. So let's meet and …
See you soon at Laclassedecuisine.com !