Du point de vue botanique, la tomate est un fruit, mais elle est considérée comme un légume. Son principal atout nutritionnel est sa richesse particulière en vitamine C et lycopène, toutes deux substances anti-oxydantes dont les effets protecteurs sur la santé ont largement été démontrés.
Riche en eau (environ 95 %), la tomate ne dépasse guère 15 calories aux 100 grammes. Elle contient également des carotènes, précurseurs de la vitamine A.
Enfin, ce légume/fruit renferme de nombreux minéraux.
Alors découvrez vite ces délicieuses recettes de Tomates Farcies façon Charcutière et Tomates Cocktail farcies aux deux Fromages en me retrouvant sur… Laclassedecuisine.com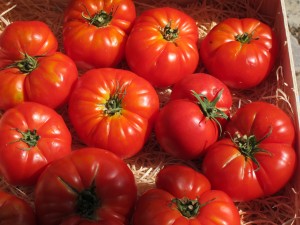 From a botanical point of view, the tomato is a fruit, but it is considered a vegetable. Its main nutritional asset is its richness in vitamin C and lycopene, antioxidant substances with protective effects on health that have been widely documented.
Rich in water (about 95%), tomato hardly exceeds 15 calories per 100 grams. It also contains carotenes, precursors of vitamin A.
This vegetable contains many minerals.
That is why, I recommend to check out these great recipes of Stuffed Tomatoes Butcher's Way and Cocktail Tomatoes stuffed with two Cheeses that you will easily find on … Laclassedecuisine.com