Cinnamon brings aroma to our compotes, Apple sauce, Pies, Gingerbread and tajines while embalming the kitchen. Studies have shown that daily consumption of ground cinnamon helps decrease our insulin secretion. Add it in yogurts, Crumbles and Oriental recipes, you'll love it.
Enjoy cloves and their antiviral properties as an anti-infectious to prevent a slight cold from turning into a bronchitis. Associate 2 to 5 cloves and a cinnamon stick with honey in a hot toddy or this Spiced Hot White Wine and everything will be fine.
Finally cumin boosts our digestion. In India and North Africa it is used for centuries for a lightweight digestion. It may be used in Homemade Breads. As a powder it can be sprinkled on meat and vegetables to make them more digestible, preferably at the end of the cooking process. We can even make a digestive tea with it and sip it at the end of the meal. So…
Bon Appétit at Laclassedecuisine.com !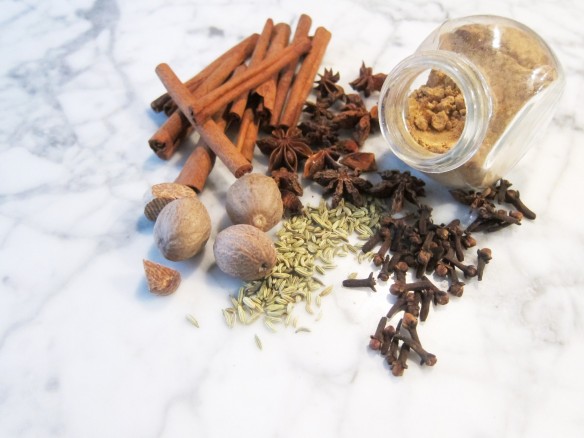 La cannelle aromatise nos compotes, nos tartes et Tourte aux pommes, le Pain d'Épices et nos tajines, tout en embaumant la cuisine. Des études ont montré que la consommation quotidienne de cannelle moulue agirait sur la secretion d'insuline. Ajoutons-en dans nos Yaourts, Crumbles et recettes orientales et nous aurons tout bon.
Profitons du clou de girofle et de ses vertus antivirales et anti infectieuses pour éviter qu'un petit rhume ne se transforme en grosses bronchite. Associons 2 à 5 clou de girofle et un baton de cannelle avec du miel dans un grog ou un Vin Blanc Chaud Epicé et tout ira bien.
Enfin le cumin booste notre digestion. En Inde et au Maghreb on l'utilise depuis des siècles pour digérer léger. On peut l'ajouter sous forme de graine dans nos Pâtes à Pain maison. Sous forme de poudre on peut en saupoudrer nos viandes et nos légumes pour les rendre plus digestes, de préférence en fin de cuisson. Mais on peut aussi s'en faire une tisane digestive à siroter en fin de dîner. Alors…
Bon Appétit sur Laclassedecuisine.com !