Hautement comestible, le précieux fruit de l'olivier est aussi un symbole méditerranéen fort décoratif dont se parent de magnifiques accessoires que nous pouvons chiner dans toute la moitié sud de la France.
Pour la petite histoire, le terme « olive » est apparu dans la langue française en 1080. Il est dérivé du provençal oliva qui l'a emprunté au latin Olea. Le terme « huile » est apparu au début du XIIe siècle sous la forme de « olie », « oile », puis « uile ». Il vient du latin oleum, « huile d'olive », qui est dérivé de Olea, « olive », indiquant que, pour les Romains, huile et olive étaient étroitement liées.
Alors, sans nous poser de questions, sachons d'abord préparer une bonne Tapenade, ce condiment de la cuisine Provençale, à base de câpres, de thon et d'olives noires dénoyautées, broyés au mortier et assaisonnés d'huile d'olive et de jus de citron.
Mais n'en restons pas là et faisons aussi ce Cake aux Olives & Noisettes qui pourra accompagner facilement nos salades fraîches qui feront de notre table estivale une variation gourmande.
Alors, à très bientôt sur laclassedecuisine.com !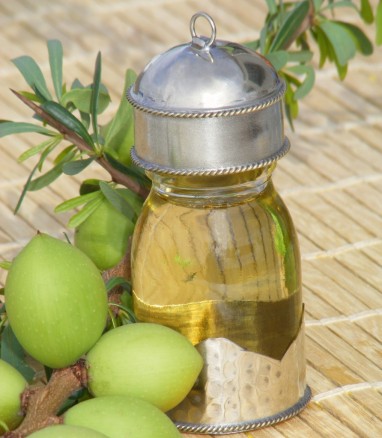 Highly edible, the precious fruit of the olive tree is a strong decorative Mediterranean symbol that adorned beautiful accessories that we can hunt throughout the southern half of France.
For the record, the term "olive" appeared in French in 1080. Oliva is derived from Provence where it was borrowed from the latin word Olea. The term "oil" appeared in the early twelfth century in the form of "olie", "oile", then "uile." It comes from the latin word oleum, "olive oil", which is derived from Olea, "olive", indicating that, for the Romans, olive and oil were closely related.
So, without hesitating too much, let us first prepare a good Tapenade, this Provençal condiment based on capers, tuna and black olives, crushed in a mortar and seasoned with olive oil and lemon juice.
But do not stop there and go ahead, making also this Olive & Hazelnut Cake that can easily accompany our fresh salads that will make our summer table a gourmet variation.
That is why, I will see you soon at lacalssedecuisine.com !