Quelle belle fête que celle de la Saint-Valentin. Chaque année, plus d'une semaine avant ce fameux 14 février, on voit des coeurs, seuls, par paires ou en guirlandes, mais tous aux couleurs dominantes de la Saint-Valentin, apparaître dans les devantures de magasin. Jusqu'au jour J où tout, ou presque, est devenu rouge, rose pâle, rose fuchsia et même violet…
Mais ce que je préfère le plus avec cette fête c'est que non seulement c'est la fête des amoureux, mais aussi celle de toutes les amitiés. Comme en Amérique et en Angleterre où, en plus, on envoie de petites cartes d'amitié à tous ceux auxquels on tient…
C'est donc en signe d'amitié, que je voudrais vous donner une recette à base incontournable de chocolat en ce jour de la Saint Valentin.  Il s'agit de l'indémoulable au Chocolat qui se mange dans le plat de cuisson, chacun y allant de sa propre cuiller. Petit plat à deux, en amoureux ou plat familial à partager avec les amis !
Alors bonne dégustation et à bientôt  sur La Classe de Cuisine.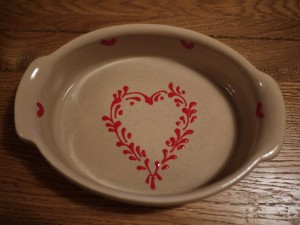 What a great party than Valentine's Day. Each year, more than a week before that famous February the 14th, we see hearts, alone, in pairs or strings, but all with the main colors of Valentine's Day, that appear in store fronts. Until the D-Day we can see almost everything turning red, pale pink, fuchsia pink and even purple …
But what I like most with this festival is that not only it is the feast of love, but also of all friendships. As in the United States and England where, in addition, you may send small cards of friendship to all those you care and you love.
So as a sign of friendship, I want to give you a recipe of essential chocolate for this Valentine's day. This is the Undemouldable Chocolate Cake that is eaten in the baking dish, everyone using his own spoon. As a small dish for two, romantic or as a dish to share with friends…
So enjoy with your best friends and see you soon at La Classe de Cuisine …