Me voilà déjà à vous reparler du printemps et des oeufs…Mais cette fois-ci comme  ingrédient essentiel et incontournable dans la cuisine, avec le printemps maintenant arrivé depuis le 20 mars, je ne peux m'empêcher de vous faire partager mes idées d'omelettes. Nous sommes tous ravis d'avoir à nouveau et à profusion: les oeufs de poule, mais aussi de cane, et même de dinde et qui se trouvent en grandes quantités et de très bonne qualité.
Pour une omelette, il suffit de casser des oeufs… et de profiter de quelques idées simples pour réussir des omelettes toujours renouvelées, faciles à faire et délicieuses.
Voici donc trois recettes pour changer! Qui vont sûrement vous plaire et qui ne prennent que peu de temps à être réalisées.
Tout d'abord l'Omelette Provençale aux Courgettes, celle qui met du soleil dans votre assiette. Ensuite l'Omelette Chausson Anisée, celle avec laquelle on a le goût du Sud de la France et enfin, ma préférée et celle dont je vous ai déjà parlé, l'Omelette Folle à la Roquette.
Alors avec cette cuisine imaginative, retrouvons-nous vite sur La Classe de Cuisine.com !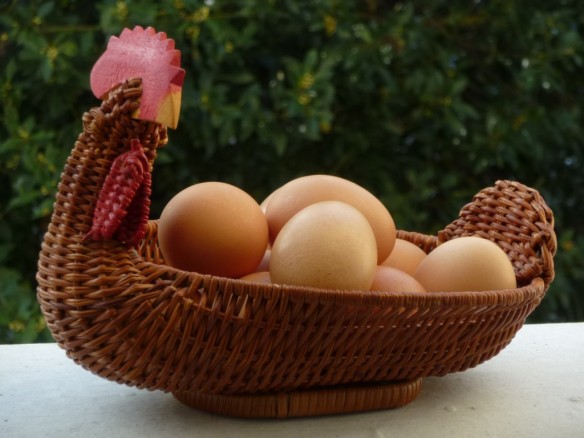 I am already talking to you again about the spring and eggs … But this time as an essential and indispensable ingredient in the kitchen, with spring now on stage since March 20th, I can not help but to share with you my ideas of omelet . We are all delighted to have again and profusely: chicken eggs, but also duck eggs, and even turkey eggs, which are in large quantities and of very good quality.
For an omelet, just break eggs … and enjoy a few simple ideas to succeed omelet always new, easy to make and delicious.
Here are three recipes for a change ! That will surely please you and that take only a short time to be realised.
First, I will start with the Provencal Omelet with Zucchini, the one that will give you some sunshine in your plate. Then the Turnover Aniseed Omelet, the one that keeps us in the South of France, and finally, my favorite and the one I have already mentioned previously, the Crazy Herb Salad Omelet.
So with this imaginative cooking, let's get together soon at La Classe de Cuisine.com !