Le pamplemousse est surtout connu pour sa faible teneur en calories qui aide à perdre du poids, mais le pamplemousse a aussi une myriade de propriétés de lutte contre les coups de froid.
Le pamplemousse est riche en vitamine C et, durant l'hiver, les agrumes peuvent aider à prévenir les rhumes. L'autre atout du pamplemousse est sa teneur en potassium, qui, en plus de prévenir les crampes musculaires et aider au maintien de la pression artérielle, joue un rôle essentiel dans les fonctions digestives.
Choisissez donc un fruit bien rond à la peau lisse qui est lourd pour sa taille et profitez-en maintenant parce que sa saison haute est  de janvier à mars et n' attendez plus pour manger cette Salade de Pamplemousse à la Vinaigrette Chaude à l'Echalote; et pour finir, je vous donne ici une des recettes favorites de ma Maman que je lui faisais déjà lorsqu'elle venait nous voir aux Etats-Unis. Et, en plus de cela, elle est facile à réaliser ma Tarte aux Pamplemousses. Un vrai régal !
A bientôt sur Laclassedecuisine.com !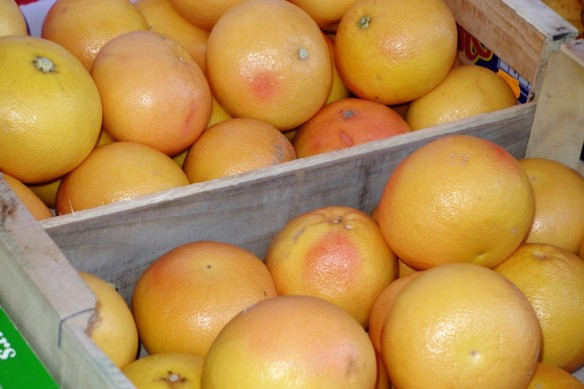 Grapefruit may be best known for its low-calorie that helps to lose weight, but grapefruit has also a myriad disease-fighting properties.
The grapefruit is rich in vitamin C and, in winter, citrus may help prevent colds.  Another grapefruit's assets is potassium which, besides preventing muscle cramps and maintaining blood pressure, plays a vital role in digestive functions.
Look for smooth skinned round fruit that feels heavy for its size and enjoy it now because its peak season is from January to March and don't wait any longer to eat this Grapefruit Salad with Warm Shallot vinaigrette; last but not least, I give you here one of my Mom's favourite recipes that I used to prepare when we were living in the United States: my  Grapefruit Tart. And, on top of that, it is easy to make and it is a real delight !
See you soon at Laclassedecuisine.com !