Comme chacun le sait, le crabe est un crustacé. En France, nous connaissons surtout le tourteau ou « crabe-dormeur » je vous donne donc tout de suite cette recette de Petits Cakes au Crabe, toute simple à faire mais délicieuse.
Aux Etats-Unis, le crabe bleu de l'atlantique aussi connu comme le crabe bleu de Chesapeake, est une espèce de crabe originaire de l'océan Atlantique et du golfe du Mexique, que l'on connaît maintenant partout et qui est très gouteux.
La baie de Chesapeake, située dans le Maryland et en Virginie, est célèbre pour ses crabes bleus. Mais c'est la Louisiane qui a la plus grande pêcherie de crabe bleu au monde. Son industrie n'a véritablement pris son essor que dans les années 1990, quand l'offre a fortement diminué dans le Maryland en raison de problèmes dans la baie de Chesapeake.
Crabe cuit à la vapeur, beignets de crabe et fête du crabe. . .  S'il est une chose dont les Marylandais sont universellement fiers, c'est les crabes bleus. Leur chair est douce et tendre. C'est pour cela que je vous donne ici la veritable recette des Crab Cakes de la Chesapeake que j'ai appris à faire là-bas, avec mes amies américaines mais que vous pouvez faire sans problème avec du crabe d'écosse aussi très bon ou tout autre crabe frais et,
A très bientôt sur Laclassedecuisine.com !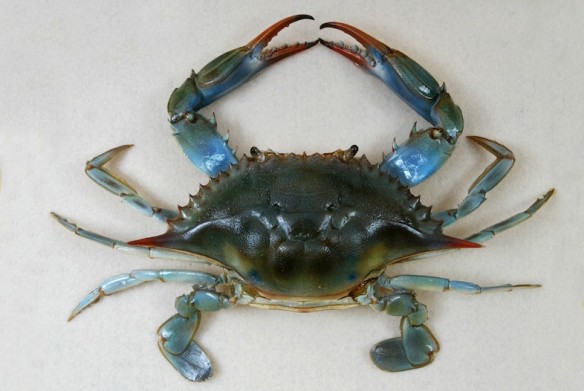 As everyone knows, the crab is a crustacean. In France, we mostly know the "tourteau" or "crab-sleeper". To begin, I give you this recipe of Small Crab Cakes, simple to make, yet delicious.
The blue crab or Atlantic blue crab is regionally from the Chesapeake bay and is a species of crab native of the waters from the western Atlantic Ocean and the Gulf of Mexico. It is now introduced internationally.
The Chesapeake Bay, located in Maryland and Virginia, is famous for its blue crabs. Louisiana has the world's largest blue crab fishery. Its industry did not expand for interstate commerce until the 1990s, when supply markedly decreased in Maryland due to problems in the Chesapeake Bay.
Steamed crab, crab cakes, crab feasts . . .  If there's one thing that Marylanders are proud of, it's Maryland blue crabs. The meat is sweet, tender and that is why I am sharing the true recipe of the Chesapeake Crab Cakes that I learned with my American friends. You can also make this with Scotland crab meat, which is as good and that I used this time.
So see you soon at Laclassedecuisine.com !