Il n'y a rien de plus agréable que de profiter du soleil pendant l'été.
Nous n'avons pas envie de passer beaucoup de temps dans notre cuisine et pourtant nos appétits sont ouverts, surtout en humant les senteurs grillées de côtelettes et autres brochettes ! Mais aussi de mets frais qui sentent bon le basilic et les herbes de Provence. Pour que ce moment soit à la fois un moment de plaisir et de gourmandise, je vous ai sélectionné deux recettes dans lesquelles vous retrouverez tout de suite le goût de notre cher Sud dont les saveurs sont gorgées de… soleil.
Commençons donc par la Terrine de Brousse aux deux Poivrons  et finissons par une Crème légère au Chocolat, servie avec des fruits rouges. Qui n'aime pas terminer un repas par un peu de chocolat?
Et retrouvons-nous vite sur La classe de Cuisine!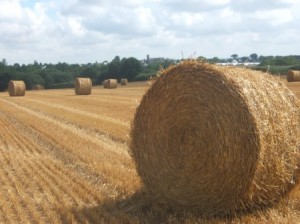 There is nothing nicer than to enjoy the sun in summer.
We do not want to spend too much time in our kitchen and yet our appetites are open, especially when smelling the scent of grilled chops and other brochettes! But also smelling dishes with fresh basil and herbs of Provence. For this moment to be both a moment of pleasure and indulgence, I have selected two recipes in which you will find right away the taste of our beloved South whose flavors are bursting with … sun.
Let us begin with the Fresh Corsican Cheese  with Peppers Terrine and finish with a Light Chocolate Cream, served with fresh red fruits. Who does not like to finish a meal with a little chocolate taste?
So let us join soon at La Classe de Cuisine !