Voici le temps où la maison aux volets bleus où les herbes ont libre cours et où les savoureuses récoltes, stationnées sous les ombrages, exhalent tous leurs parfums de cette campagne estivale.
La rentrée est pourtant bien là, à notre porte, mais nous sommes toujours encore avec la tête à la campagne et ressentons un zeste de nostalgie même si un brin de nouveauté pointe le bout de son nez.
Pour garder tout notre moral, je vous propose donc cette délicieuse recette de Tartines de Mozarella et Poivrons que vous pouvez aussi faire avec des tomates, pour un en cas sur l'herbe et que nous pourrons concocter dans l'un des nombreux parcs de Londres, de New York de Paris ou bien sûr tout simplement dans le jardin près de chez vous….
Alors à très bientôt sur La Classe de Cuisine !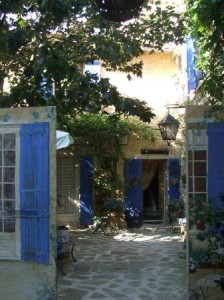 This is the time where the house with blue shutters, were herbs have free rein and tasty crops and stationed in the shade, exhale all the perfumes of the summer countryside.
The school year is yet there, on our doorstep, but we are still with our heads in the countryside and feel a touch of nostalgia even though novelty is peaking out.
To keep all our spirits, I propose you this delicious recipe for Mozzarella and Pepper Sarnie that you can also do with tomatoes, as a snack on the grass that we can prepare and savour on one of the many parks in London, New York, Paris or, of course in any nice garden close to your home…
That is why I will see you soon at La Classe de Cuisine !