L'unique fruit que l'on ne peut consommer cru se savoure avec le gibier ou en gelée, pâtes de fruits et liqueur, après un passage obligé en cuisine pour en révéler les délicats parfums. Le coing est un peu un ancien méconnu !
Ce petit arbre qu'est le cognassier, originaire des rives de la mer Caspienne, et peu répandu dans nos jardins, offre à nos vergers ses larges feuilles vertes et duveteuses illuminées au printemps, de mille fleurs blanc rosé.
Dédié par les anciens à la déesse de l'Amour, décrit par Pline et plébiscité par Charlemagne, le coing reste cependant rare. Ses fruits, volumineux et en forme de poire, de couleur jaune foncé sont à maturité, peu avant les premières gelées. Les coings diffusent de puissants parfums. Il a une rusticité légendaire, car le cognassier est l'un des plus robustes de nos arbres fruitiers.
Alors que sous ses côtes joufflues se cachent de subtils parfums, je ne peux que vous proposer la recette des Coings sautés au Sucre et Beurre salé, une vraie petite merveille, surtout servie avec une boule de glace à la vanille…
retrouvons-nous donc vite sur La Classe de Cuisine !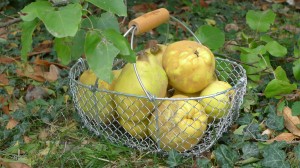 The only fruit that can not be eaten raw can be enjoyed with game or jelly, fruit jelly and liqueur after a must in the kitchen to reveal the delicate fragrances. The quince is a bit of an unknown old!
This small tree that is the quince tree, from the shores of the Caspian Sea, and not widespread in our gardens, orchards offers its broad green leaves and fluffy illuminated in the spring, a thousand flowers pinkish white.
Dedicated by the ancients to the goddess of love, described by Pliny and praised by Charlemagne, quince remains rare. Its fruit, large and pear-shaped, dark yellow are mature, just before the first frost, the quince spread powerful perfumes. It has a rustic legendary as the quince is one of the most robust of our fruit trees.
While under his chubby ribs hide subtle perfumes, I can only offer you the recipe for Quince sautéed in Sugar and salted Butter, a real delight, especially served with a scoop of vanilla ice-cream…
So, See you soon at La Classe de Cuisine !