To Stay hydrated is so much more fun with Infused Water than just Water. We need to drink, but Instead of Soda, lets drink healthy, hydrating, and homemade water. I got four refreshing Fruit-infused Water recipes that provide a kid-pleasing alternative to fruit juice but also for us parents and Adults.
Enhance your health and delight your taste buds with healthy, homemade waters. Why not make drinking water fun by adding a little fruit, vegetable, or herbs. These Fruit Infused waters will help you drink more water. Grapefruit/Vanilla infused Water, Lemon/Ginger infused Water, Orange/Rosmarin Infused Water and Lime/Mint Infused Water are my favorites.
We all know how important it is to stay hydrated, year round. During winter, we can have several ways to stay hydrated during those months… And let's treat ourselves with these Cappuccino Pana Cotta. That is why,
I will see you soon at Laclassedecuisine.com !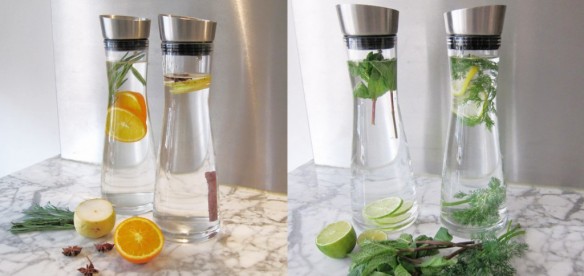 Rester hydraté est tellement plus amusant avec de l'eau infusée que de l'eau ordinaire. Nous avons besoin de boire, mais au lieu de boire des sodas, buvons des eaux saines, et hydratons-nous avec de l'eau "fait maison". Je vous propose quatre recettes d'eaux infusées et rafraîchissantes qui fournissent une alternative agréable aux jus de fruits pour nos enfants. mais aussi pour nous, les parents et les adultes.
Améliorez votre santé et ravissez vos papilles avec les Eaux Infusées maison et saines de surcroît. Pourquoi ne pas ajouter quelques tranches de fruits, de légumes, ou encore des herbes? Mes goûts préférés sont Pamplemousse/Vanille, Citron/Gingembre, Orange/Romarin et Citron Vert/Menthe.
Nous savons tous combien il est important de rester hydraté, toute l'année. Particulièrement pendant les mois d'hiver. Faisons-nous plaisir avec ces Pana Cotta au Cappuccino. C'est pour cela que je vous dis…
A très bientôt sur Laclassedecuisine.com !