En Mai, cuisinez surtout comme il vous plaît car nous sommes arrivés dans le mois ou beaucoup de légumes et fruits sont arrivés à maturité.
J'aimerai commencer par vous parler aujourd'hui de la rhubarbe qui, contrairement à ce que l'on croit peut se consommer aussi bien crue que cuite. Si les feuilles de rhubarbe sont toxiques, puisqu'elles entrent dans la composition d'insecticides, leur tige est très appréciée. Son nom vient du latin "rhu" qui signifie "tige". On la fait blanchir ou macérer dans du sucre, voire du sel car la rhubarbe se savoure avec de la vanille, du gingembre, d'autres fruits et pourquoi pas relevée d'un filet d'huile d'olive pour accompagner une viande ou une volaille. Ce qui nous fait déjà découvrir le Cake à la Rhubarbe.
Parmi les variétés de rhubarbe les plus connues il y a la Victoria, dont les tiges sont vertes  sinon la Valentine, la Canada Red ou encore la Mac Donald dont les tiges sont teintées de rouge. Les amis de la rhubarbe sont la fraise, bien sur, mais aussi le citron, la framboise et la pomme. Nous voici arrivés au point où je peux vous emmener voir le Gratin de Rhubarbe aux Fraises.
Maintenant, je ne peux décemment pas ne pas vous parler déjà des fraises qui sont si bonnes en mai même si la saison ne fait que commencer…car c'est maintenant qu'elles sont réellement parfumées; Le petit goût acidulé de la gariguette devient bien aromatique en mai. Une bonne fraise est une fraise mûre, quelle que soit la variété. Légère et rafraîchissante, elle est riche en vitamine C et arrive donc à point nommé pour prendre la relève des agrumes. Enfin, son apport vitaminique stimule nos défenses immunitaires.
On peut donc les manger à toute heure, nature mais ce que je trouve délicieux c'est ce petit dessert fait en trois minutes et que j'appelle la Mousse aux Fraises. je vous laisse aujourd'hui 3 recettes pour qu'il y en ait pour tous les goûts mais aussi et surtout pour tous les emplois du temps.
Alors à très bientôt sur La classe de Cuisine !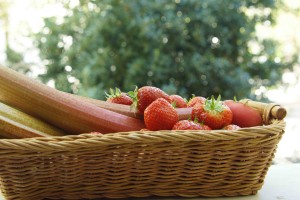 In May, cook as you please as we arrive in the month where lots of vegetables and fruits are mature.
I'd like to start by talking today about the rhubarb, despite to what one believes can be eaten both raw or cooked. If rhubarb leaves are toxic, since they are components of insecticides, the stem is much appreciated. Its name comes from the Latin "rhu" which means "stem ". You will bleach or soak it into sugar or salt and rhubarb is savored with vanilla, ginger and other fruits and why not spiced with a drizzle of olive oil to accompany meat or poultry. What we already discover here is  the Rhubarb Cake.
Among the varieties of rhubarb most famous are the Victoria, whose stems are green then the Valentine, Canada Red or the Mac Donald whose stems are red tinged . Friend of the  rhubarb are strawberries, of course, but also lemons, raspberries and apples. We have reached the point where I can lead you to the Rhubarb with Strawberry Gratin.
Now I can decently not speak about strawberries that are so tasty in May even though the season is just beginning … As it is now that they start to really give their fragrant. The little tartness of gariguette becomes although aromatic in may. A good strawberry is a ripe strawberry, whatever the variety. Light and refreshing, it is rich in vitamin C and thus arrives at the right time to take over citrus. Finally, its vitamin intake stimulates our immune defenses.
We can eat them at any time, but the kind that I find delightful is this little dessert ready in three minutes and that I call Strawberry Mousse. I leave you here 3 recipes so that there is something for every taste but also and especially for every timetable.
So, see you soon at La Classe de Cuisine !