Early in the summer, cheerful foodies in flip-flops like to mix things up because it's important to do something different than what is done during the rest of the year. We share giggles and good moments devouring olives with our fingers. We prepare Cherry Tomatoes Olives & Goat Cheese Clafoutis and a Juicy Fruit Tart.
Also, I wanted to change the usual style of a vegetable terrine. Instead of adopting the form of a rectangular cake, my Vegetable Terrine looks like this deliciously Round Vegetable Cake. Let's cook up some wonderful and tasty memories.
Bon Appétit at laclassedecuisine.com !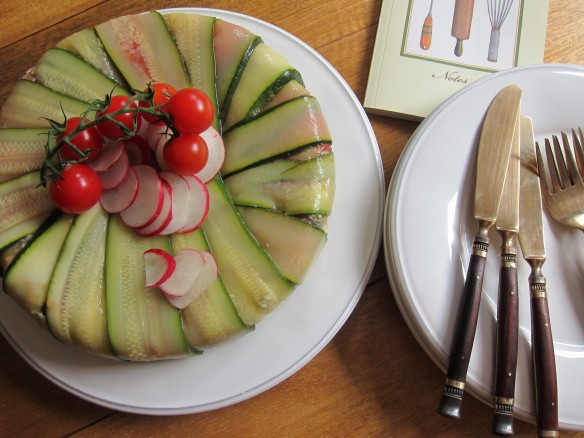 Au début de l'été, les adeptes de cuisine joyeuse, en tongs et en toute simplicité, n'hésitent pas à cuisiner de manière différente de ce qu'ils ont fait tout le reste de l'année. On partage des fous rires et de vrais bons moments en dévorant des olives attrapées avec les doigts, en préparant un Clafoutis de Tomates Cerises, Olives & Chèvre ou une Tarte aux Fruits Juteux, débordante de générosité.
Aujourd'hui, en préparant une terrine de légumes, j'ai voulu changer de style et, au lieu d'adopter la forme rectangulaire du moule à cake, ma terrine de légumes ressemble à un beau Gâteau aux Légumes. Cuisinons ainsi de merveilleux et savoureux souvenirs et…
Bon Appétit sur laclassedecuisine.com !