The harvest has begun and here are three good reasons to eat apples. First, an apple is low in calories. Second, it is uplifting with its vitamins, minerals and natural carbohydrates. Finally, it is diuretic because it's rich in potassium and low in sodium.
The Apple, that we love to crunch, accommodates also with cheese, poultry and white meat like in this Pork Rack and Apples. It is perfect in salads as well as in the unforgettable Tarte Tatin… Don't forget to try this Apple Jam with lemon & Honey.
So, bon Appétit at Laclassedecuisine.com !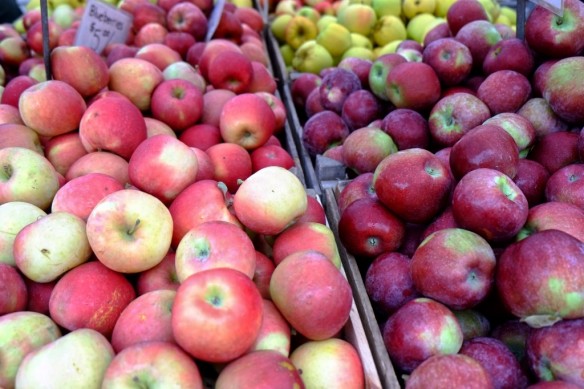 La récolte a commencé et j'aimerais vous donner aujourd'hui au moins 3 bonnes raisons de consommer la Pomme. D'abord, elle est peu calorique. Ensuite, elle est dynamisante grâce à ses vitamines, ses minéraux et ses glucides naturels. Enfin, elle est diurétique puisque riche en potassium et pauvre en sodium.
La Pomme, je ne vous la présente plus, elle qui se croque en toute simplicité et qui accompagne aussi bien le fromage et les volailles que les viandes blanches comme dans ce Carré de Porc et Pommes. Elle est parfaite dans les salades, dans d'inoubliables desserts comme la Tarte Tatin, et dans cette… Confiture de Pommes au Citron & Miel à réaliser soi-même.
Alors bon appétit avec laclassedecuisine.com !