D'ordinaire, croquer dans une rondelle de citron provoque une crispation des mâchoires. En cause, l'acidité teintée d'amertume de la pulpe et du jus. Si vous renouvelez l'essai avec le Yuzu ou citrus junos, qui désignent le même citronnier, vos papilles ne réagiront pas de la même façon. Son arôme est fin et intense. Il a conquis les pâtissiers nippons et français.
Près d'une centaine de chefs, dont une galaxie d'étoilés (Alain Ducasse, Jean-François Rouquette, Hélène Darroze, Alexandre Bourdas..), sont devenus accros au peps parfumé des yuzus, mains de Bouddha, limequats et autres cédrats. Originaires de l'Asie du Sud-Est, arrivés via la Mésopotamie sur les rivages méditerranéens, trois siècles avant Jésus-Christ, les citrus n'ont cessé de se multiplier. "Ces plantes possèdent une grande capacité d'hybridation" disent les experts.  A la diversité des espèces, s'ajoute celle des maturités ou des différentes parties du fruit.
Le citrus junos est un arbre à croissance lente dans sa jeunesse et très épineux. Sa fructification est lente et parsemée, pouvant prendre plusieurs années, parfois 1 an sur 2.
Son fruit est arrondi comme une mandarine, jaune à maturité. L'écorce est excellente en cuisine et son parfum est formidable. C'est au Japon et en Corée qu'il est le plus cultivé. D'ailleurs il est présent dans un bon nombre de préparations, surtout salées.
Riche en vitamine C, le yuzu est réputé, en Asie, pour ses vertus médicinales. Il est connu pour soigner le rhume et les maladies de l'hiver. Alors pourquoi ne pas essayer tout de suite ce Grog au Drambuie & Yuzu ! Je ne résiste pas à l'envie de vous donner également  cette délicieuse recette revisitée du Cheese Cake au Yuzu, un peu moins riche que la recette américaine… Mais tout aussi bon !
Si vous ne trouvez pas de Yuzu, optez alors pour le doux citron de Menton qui dégage un puissant parfum citronné aussi et que l'on trouve aisément à maturité au coeur de l'hiver sur tous les marchés.
et… à très bientôt sur La Classe de Cuisine !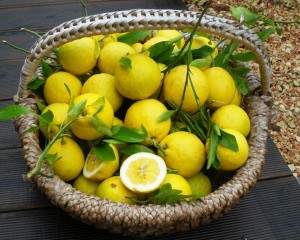 Usually, biting into a slice of lemon causes our jaws to clench! For good reason, this comes from bitterness tinged with acidity of the pulp and juice. If you repeat the test with Yuzu or citrus junos designating the same lemon, your taste buds will not react the same way. This is why its fine aroma and intensity conquered the Japanese and French pastry Chefs.
Nearly a hundred Chefs, including a galaxy of starred ones like Alain Ducasse, Jean-François Rouquette, Hélène Darroze, Alexander Bourdas, have become addicted to pep fragrant Yuzu, hand of Buddha and other limequat lemons. It arrived via Mesopotamia Asians Southeast, on the Mediterranean coast, three centuries before Christ. Citrus have continued to multiply. "These plants have a high capacity of hybridization" some experts say. Maturities and different parts of the fruit are added to the diversity of species.
The Citrus junos is a slow-growing tree in its youth. Very thorny. Fruiting is slow and scattered and it can take several years, sometimes 1 year in 2.
Its fruit is rounded like a tangerine, yellow when ripe. The bark is excellent for cooking and its aroma is great. It is in Japan and Korea that it is the most widely cultivated. Moreover, it is present in a number of preparations but mainly those savoury.
Last but not least, rich in vitamin C, Yuzu is known in Asia for its medicinal properties. It is known to cure colds and diseases of winter. So why not try it immediately with this Drambuie & Lemon Toddy! I cannot resist to give you also this delicious recipe revisited by myself of the Yuzu Cheese Cake, a slight lighter than the original American Recipe…but as good !
If you do not find Yuzu lemon, opt for the soft Menton lemons (South East City of France well known for its Lemon Harvest), or the Mellow Meyer lemon for those living in the States,  exuding also strong lemony fragrance found easily at maturity in the middle of winter on any fresh market places.
And… See you soon at La Classe de Cuisine !