Le Siphon est cet ustensile de cuisine déjà en vogue depuis plusieurs années et qui permet de réaliser des chantillys inratables et des mousses légères aussi appellées Espumas (écumes en Catalan). C'est le chef espagnol Ferran Adria qui a initié cette tendance et beaucoup de chefs, comme nous, ne pouvons plus nous en passer…
En Mai, que de tentations… les étals regorgent de petits légumes nouveaux et de fruits tous plus appétissants les uns que les autres. Nous avons envie de légèreté. Alors, siphonner de la Chantilly salée, des mousses aux légumes ou aux fruits tente beaucoup et devient presque ludique…
Alors, chaud ou froid, essayons d'abord cette recette d'Espuma d'Avocat en Verrines. le mélange qui doit être exempt de particules ou filaments doit toujours être filtré dans une fine passoire surtout s'il y a des aromates, des épices ou des extraits de légumes ou de fruits pour éviter de boucher la douille. La Mousse de Yaourt aux Fraises est une recette du célèbre Chef Ferran Adria dont je vous parlais plus haut et qui est divinement légère.
Si vous ne l'avez pas déjà, sachez que vous trouverez le siphon dans toutes les bonnes boutiques d'ustensiles de cuisine. Cependant, n'hésitez pas à acheter un siphon de qualité, tout en inox. La marque la plus connue est ISI.
il existe des modèles de 0,25 litre, 0,5 litre et 1 litre, mais pour un usage ponctuel et non professionnel, le modèle de 0,5 litre est tout à fait suffisant.
Alors retrouvons-nous très vite sur La Classe de Cuisine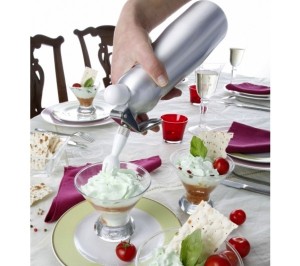 Siphon is that cooking utensil already in vogue for several years that can make foolproof Chantillys and light  also called Espumas (scum in Catalan). The Spanish Chef Ferran Adria has initiated this trend and many chefs, like us, can not do without …
In May, so many temptations … stalls full of newcomers and all vegetables as appetizing as fruits. We want lightness. So to siphon the savory Chantilly, vegetables or fruit mousses becomes tempting and even fun …
So, hot or cold, first try this recipe for Avocado Espumas in Glasses. The mixture should be free of particles or filaments and must always be filtered through a fine sieve especially if there are herbs, spices or extracts from vegetables or fruits to avoid clogging the socket. Yogurt Mousse with Strawberries is a recipe from the famous Chef Ferran Adria I mentioned above, which is divinely light.
If you do not already have it, know that you will find it in all good utensils shops. However, do not hesitate to buy a quality siphon, all stainless steel. The most famous brand is ISI.
There are models of 0.25 liter, 0.5 liter and 1 liter, but for a timely and non-professional use, the 0.5-liter model is quite sufficient.
that is why, I will see you soon at La Classe de Cuisine !