Faisant partie de la famille des cucurbitacées, les melons n'étaient cultivés que dans les régions chaudes et ensoleillées, mais ils sont maintenant aussi cultivés dans les climats tempérés comme le Royaume-Uni.
Doux et succulents, les melons peuvent être ronds ou ovoïdes. Leur chair peut être orange, verte ou jaune. Son poids étant fonction de sa concentration en sucre, le fruit le plus lourd est aussi le plus savoureux. Les pastèques ont, en opposition, une chair rose-rouge parsemée de graines noires. Ne les conservez pas plus de quelques jours dans un endroit frais, en évitant toutefois le réfrigérateur.
Tous deux sont au mieux en plein été. Dégustez-les avec des framboises et d'autres fruits de saison, comme ici avec cette Pastèque Baleine parce que nos soirées de réception se doivent d'être aussi divertissantes.
Et retrouvons-nous vite sur La ClassedeCuisine.com pour cette Rentrée !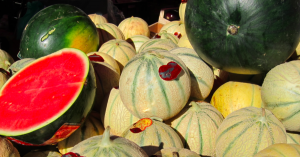 Members of the gourd family, melons used to be cultivated only in hot, sunny regions but are now grown in temperate climates too, such as in the UK.
Sweet and succulent, melons can be round or oblong. Their flesh can be orange, green or yellow. Its weight is directly related to the concentration of sugar so the heaviest fruit is the tastiest. Watermelons have, in opposition, a rose-red flesh dotted with black seeds. Don't forget not to store them more than a few days in a cool place, while avoiding the refrigerator.
Both are best in high summer. Enjoy them with raspberries and other fruits like here with this Watermelon Whale because a reception should also be entertaining.
Let's meet soon at La ClassedeCuisine.com for that Back to School period !