Les Champignons ont tout pour eux : Saveur riche, belle et unique textures et tous les avantages pour la santé. Pauvres en calories, les champignons sont une des sources végétales riche en vitamine D, selon la variété choisie bien sûr. Une portion de champignons nous apporte également du potassium, du sélénium et beaucoup de vitamines B.
Les champignons Grifola comme les champignons de paris sont aussi particulièrement riches en fibres alimentaires, connues pour abaisser le taux de cholestérol et contiennent aussi du bêta-glucan, qui aide à diminuer notre taux de sucre. enfin, il stimule la production des cellules T , bon pour notre système immunitaire.
Toutes les études nous disent que les champignons font beaucoup de bien ! Pas mal pour un aliment arraché aux troncs et les bases d'arbres. Champignons de Paris et portobellos sont faciles à trouver sur n'importe quel marché, mais aussi dans les supermarchés. Alors, n'attendez pas et précipitez-vous dans votre cuisine pour faire ces Champignons farcis au Chèvre & Herbes. C'est facile à réaliser et fait partie de la nourriture saine.
Alors à très bientôt sur La Classe de Cuisine !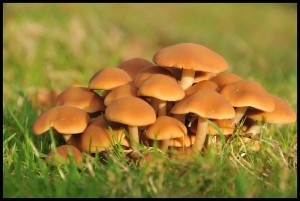 Mushrooms have it all : Rich flavour, hearty texture and unique health benefits. For as low as they are in calories, mushrooms are one of the few plant sources of vitamin D, depending on the variety. A serving of mushrooms also offers potassium, selenium and plenty of B vitamins.
Maitake, white buttons are also particularly rich in dietary fibers, known to lower cholesterol and beta-glucan, a long chain sugar that stimulates T cell production and boosts our immune system.
All these studies let us tell that mushrooms do so much good ! Not bad for a food plucked from logs and the bases of trees. White buttons and portobellos are easy to find at any fresh market place but also at supermarkets. So, don't wait and rush in your kitchen to make this Goat Cheese & herb stuffed Mushrooms. it is so easy to make and a healing food too.
That is why… I meet you soon at La Classe de Cuisine !