La semence confie à la nature toutes les promesses de la graine. Au bout d'un long processus, elle donnera une fleur ou une arbre chargé de fruits qui eux-mêmes porteront des graines.
C'est à chaque fois un nouveau miracle de la nature, cette force qui se cache dans une petite graine comme celle de la lentille dont je veux vous parler aujourd'hui : La lentille fait partie de l'alimentation humaine depuis la préhistoire. Trônant parmi les légumineuses ayant la plus petite taille, la lentille a l'avantage de nécessiter un temps de cuisson plus court que la majorité des légumineuses. On connaît mieux la lentille verte ou brune qu'on utilise parfois dans les soupes, mais on trouve aussi sur les tablettes la lentille corail (parfois appelée lentille rouge), un peu plus petite. Avec les haricots ambériques, la lentille est réputée être la plus digeste de toutes les légumineuses. Essayons donc tout de suite ce Risotto de lentilles au céleri-rave et nous aurons notre dose maximale de fibres, de phosphore, de fer et de cuivre.
Et en promesse de printemps, pourquoi ne pas envoyer à ses amis des cartes pour Pâques contenant des graines prêtes à semer? Une jolie idée qui promet de belles surprises.
Alors à très bientôt sur La Classe de Cuisine !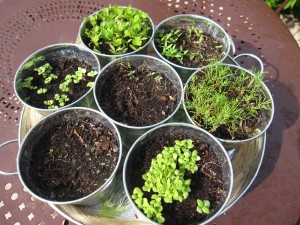 Seed entrusts to nature all the promises of the seeds. After a long process, it will give a flower or a tree laden with fruits that will bear their own seeds.
It is each time a new miracle of nature, this force that lies in a small seed like the lentil, which I want to talk about today: The lentil is part of the human diet since prehistoric times. Enthroned among legumes as the smallest in size, the lentil has the advantage of requiring a shorter cooking time than most legumes. We are more familiar with green lentils or brown lentils as the authentic Puy Lentils sometimes used in soups, but we can also find on the coral lentil (sometimes called red lentil), slightly smaller. Alongside mung beans, the lentil is considered to be the most digestible of all legumes. So why not try this lentils & Celeriac Risotto immediately and we will have our maximum dose of fiber, phosphorus, iron and copper.
And as a promise of spring, why not send Easter cards to friends containing seeds ready to sow? A nice idea that promises surprises.
So, let's see you soon at La Classe de Cuisine !