La truite est élégante. C'est un poisson gras, semblable au saumon mais avec une saveur plus douce et plus délicate. Les truites grandissent rapidement et sont généralement d'élevage. Mais vous pouvez aussi les pêcher ou acheter sauvages et donc leur meilleur moment est le printemps.
La truite arc-en-ciel la plus connue est arrivée d'Amérique du Nord en Europe à la fin du 19ème siècle. La truite est une excellente source d'oméga-3 et donc d'acides gras. La truite est un des poissons les plus sains que vous pouvez inclure dans votre alimentation.
La truite d'élevage, en particulier celle d'élevage de truite arc-en-ciel est un meilleur choix que la truite dite sauvage car la truite d'élevage est élevée dans les étangs d'eau douce et donc protégée contre les contaminations environnementales.
Je vous propose de cuisiner cette Truite Sautée aux Noisettes, une recette rapide à réaliser et vous apprécierez le goût et la saveur légèrement terreuse et en même temps delicate. Alors…
A très bientôt sur Laclassedecuisine.com!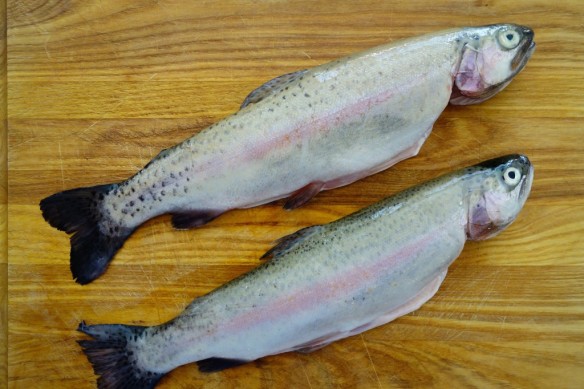 Trouts are elegant. It is an oily fish, similar to salmon but with a sweeter and more delicate flavour. Trouts are growing quickly and are usually farmed. But you can also catch wild trouts and the best time for this is in spring.
The rainbow trout is the most famous and came from North America to Europe at the end of the 19th century. Trout is an excellent source of omega-3 fatty acids. It is one of the healthiest fish you can include in your diet.
Farmed trout, especially farmed rainbow trout, is a better choice than wild lake trout, since farmed trout is raised in freshwater ponds and raceways that are protected from environmental contaminants.
Try this Sautéed Trout with Hazelnuts, a recipe that is as quick as cooking gets and enjoy the taste of a delicate, slightly earthy flavor…
See you soon at Laclassedecuisine.com !