D'octobre à juin, le kiwi est présent sur tous les étals. Souvent associé à la nouvelle-Zélande, il est aussi cultivé en France, notamment dans le sud-ouest. Au cœur du Pays de l'Adour, entre Pau et Bayonne, le kiwi a fait son apparition il y a une quarantaine d'années. Sa saveur fruitée et légèrement acidulée lui a valu d'obtenir le Label rouge en 1992 et une Indication géographique protégée (IGP) en 2009. Une garantie de qualité.
Achetez-le comme vous l'aimez. Bien mûr, mais sans être frippé, cédant légèrement sous la pression des doigts si vous l'aimez tendre et sucré. Plus ferme si vous le préférez légèrement acidulé. A température ambiante, il continue à mûrir dans la corbeille à fruits.
Sachons quand même que le kiwi est le fruit d'une liane, qu'il a été découvert en Chine 1000 ans avant JC. Il a été importé au XIXe siècle en Nouvelle-Zélande où il connu un développement immédiat. Il est d'abord connu sous le nom de « groseille de Chine », mais durant la guerre froide, ce nom pose problème pour sa commercialisation aux États-Unis. Les Néo-zélandais le nomment alors « kiwi », sa peau velue leur rappelant celle de l'oiseau du même nom également emblème de leur pays.
Son coté acidulé fait qu'il se marie bien avec un dessert crémeux comme une "Pannacotta au Coulis de Kiwi". Essayez-le aussi en version " Clafoutis de Kiwi " et retrouvons-nous vite sur La Classe de Cuisine.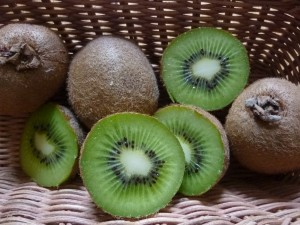 From October to June, the kiwi is present on all the stalls. Often associated with to New Zealand, it is also cultivated in France, particularly in the southwest. In the middle of the Pays de l'Adour, between Pau and Bayonne, the kiwi was introduced there about forty years ago. Its fruity and slightly tangy taste got him the Red Label in 1992 and a Protected Geographical Indication (PGI) in 2009. A guarantee of quality.
Buy it the way you like. Ripe, but not crumpled, yielding slightly under the finger pressure if you like it sweet and tender. Firmer if you prefer it slightly acid. At room temperature, it continues to ripen in the fruit basket.
Let us know that the Kiwi is the fruit of a creeper, it was discovered in China 1000 years BC. It was imported in the nineteenth century in New Zealand where it had an immediate development. He was first known as the "Chinese gooseberry", but during the Cold War, this name was problematic for commercialization in the United States. New Zealanders called it then"kiwi", his hairy skin reminding them of the bird having the same name and also the emblem of their country.
Because of its tangy taste it goes well with a creamy dessert as a "Pannacotta with Kiwi Coulis" and also in the version " Kiwi Clafoutis ". So join us soon at La Classe de Cuisine.