La nature n'a de cesse de nous étonner par la variété de ses formes et de ses couleurs. La beauté des feuilles, la magie des baies. L'automne est la période ou l'on stocke des réserves pour l'hiver. Dans chaque placard, confitures, fruits en conserves et herbes mises en pots, ont trouvé leur place.
La nature nous offre une dernière fois les trésors de ses métamorphoses pour redécorer nos balcons, nos terrasses. L'éclat des couleurs et l'abondance des fruits nous incite à faire… nos conserves ! Qui dit conserve, dit stérilisation. La stérilisation est un mode de cuisson très pratique pour une conservation naturelle de vos aliments. Ce procédé est d'une facilité enfantine et vous verrez que la plupart de vos préparations peuvent être stérilisées.
Cette méthode, crée un vide d'air en tuant les microbes et les parasites. Voici donc, à la demande d'une de mes amies, les conseils et la méthode pour stériliser et chacun peut retrouver facilement tout ce qu'il faut savoir dans la rubrique Astuces/Tips avec pour commencer la recette des Champignons à l'Huile d'Olive ou encore les Coeurs de Fenouils aux Tomates.
Alors retrouvons-nous vite sur La Classe de Cuisine !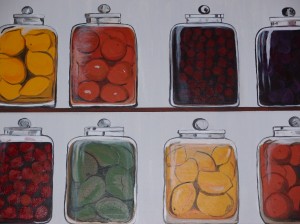 Nature never ceases to amaze us with its variety of shapes and colours. The beauty of the leaves, magic berries. Autumn is the time we store reserves for the winter. In every closet, jams, canned fruits and potted herbs have found their place.
Nature gives us one last time the treasures of its metamorphoses to redecorate our balconies, terraces. The bright colors and plenty of fruits leads us to … make preserves! Who says canned, says sterilization.
Sterilization is a cooking method, very convenient, for your natural food preservation. This process is a breeze and you will see that most of your preparations can be sterilized.
This method creates a vacuum by killing germs and parasites.
Here, then, at the request of one of my friends, you will find advice and method for sterilizing. You will easily find everything you need to know in the section Astuces /Tips and here we are with right now, the recipe of Mushrooms in Olive Oil or Fennel Hearts with Tomatoes.
So, See you soon at La Classe de Cuisine !