Saint Valentin était prêtre à Terni, en Italie. L'histoire raconte qu'il donnait en secret les sacrements du mariage à des couples qui n'avaient pas le droit de s'unir officiellement. Il s'agissait généralement d'esclaves, de soldats ou de très jeunes gens dont les parents n'agréaient pas l'union.
C'est pourquoi l'anniversaire de sa mort, survenue un 14 février est consacré aux amoureux, même de longue date! Pour eux, les fragiles moments de l'espoir et de l'attente font déjà partie du passé, mais ils doivent profiter de la St-Valentin pour célébrer le bonheur d'avoir découvert l'âme soeur.
Pour commencer cette journée dédiée à l'amour de votre vie, préparez-lui un délicieux petit-déjeuner avec ces Oeufs Brouillés façon Prestige, car pour ouvrir l'appétit et réveiller les sens il n'y a rien de tel qu'un mélange subtil de saveurs sucrées mais aussi épicées. Pour avoir une autre note sucrée retenez également ces Coeurs aux Noisettes .
"Quel suprême bonheur que d'être aimé, et quel bonheur, ô dieu, que d'aimer !" Goethe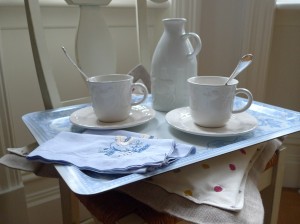 Saint Valentine was a priest in Terni, Italy. The story says that he secretly gave the sacraments of marriage to couples who did not have the right to be officially united. They were generally slaves, soldiers or young people whose parents didn't accept their union.
This is why the anniversary of his death on February 14th, is devoted to love, even for the longstanding ones! For them, the fragile moments of hope and expectation are already part of the past, but they must take advantage of Valentine's Day to celebrate the joy of having found the soul mate.
To begin this day dedicated to the love of your life, prepare him/her a delicious breakfast with the Scrambled Eggs Prestigious Way, because there is nothing like a subtle but spicy mixture of flavors to stimulate the appetite and awaken the senses. To finish with a sweet taste, withhold these Hazelnut Hearts .
"What a supreme happiness of being loved, and what happiness, O God, to love!" Goethe.