Même si les jardiniers s'affairent encore dans les vergers, Septembre est pour beaucoup d'entre nous synonyme d'un retour dans le rythme trépidant de la vie citadine.
Laissons les produits du verger et du potager nous rappeler les splendeurs de l'été finissant. Certains remplissent leurs paniers de fruits mûrs, de légumes croquants ou d'herbes aromatiques qu'ils ont récoltés dans leur propre jardin !
Nous n'en sommes pas tous là et n'avons pas tous cette chance. Profitons alors de ces très beaux marchés, qui se trouvent aux quatre coins de la ville que nous habitons et qui regorgent en ce moment de fruits et légumes, mûrs à point, qui ont du goût et que nous pouvons choisir.
Profitons aussi de cette période pour régaler toute la famille en nous retrouvant, pourquoi pas, tous ensemble dans la cuisine pour transformer ces fruits et légumes en conserves ou confitures.
Les prunes, comme les mirabelles, les quetsches, comme les reines-claudes sont les fruits du moment. Elles sont toutes attirantes par leur goût sucré mais aussi acidulé en même temps.
Voilà pourquoi je vous propose cette recette toute simple mais tellement bonne du Clafoutis de Quetsches que tout le monde savourera grâce à sa texture fine et juteuse, et que je vous conseille de manger tiède. Hmmm…
Alors retrouvons-nous vite sur LaClasse de Cuisine !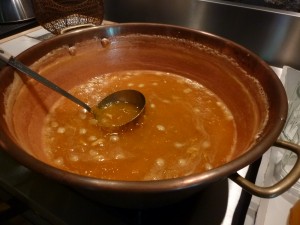 While gardeners are busy in orchards, September means for many of us a return to the hectic pace of city life.
Let the products of the orchard and vegetable garden remind us of the glories of late summer. Some fill their baskets of ripe fruits, crunchy vegetables or herbs that have been harvested from their own garden !
Well, we're not all there and do not have all that luck. Then enjoy these beautiful open markets, which are at every corner of the city in which we live and which abound at this time of tasty fruits and vegetables, perfectly ripe, that we can choose.
Also take this time to treat the whole family and, why not, gathering in the kitchen to turn these fruits and vegetables into preserves and jams.
Plums, such as mirabelles, purple plums, greengage are the fruits of the moment. They are very attractive, being at the same time tangy and sweet.
That's why I offer you this simple but so good recipe that is Purple Plum Clafoutis.  Everyone will savor it with its fine and juicy texture and I advise you to eat it warm. Yummm…
So lets meet soon at La Classe de Cuisine !