La Quetsche d'Alsace, le Pruneau d'Agen, ou Prune d'Ente.
Cette sorte de prune ou prune de Damas est le fruit de l'une des variétés du prunier de Dama. Il aurait été ramené par les Croisés à leur retour de Jérusalem. Le nom est arrivé en France par l'alsacien Zwatchga et a été simplifié en quetsche.
Jadis, servies en légumes (séchées et accompagnées d'un morceau de lard gras); de nos jours, on l'apprécie plus volontiers en tarte, en clafoutis comme dans ces recettes de Clafoutis de Questches et Prunes vanillées en Aumônière ou encore en eau de vie.
La Prune est votre allié santé et, malgré ce que l'on en dit souvent, son indice glycémique est modéré. Enfin, ce fruit a une grande diversité de vitamines et minéraux, et c'est pourquoi il fait toujours partie de l'alimentation des sportifs.
Alors, Bon Appétit sur Laclassedecuisine.com !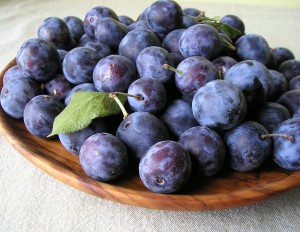 Quetsche from Alsace, the Agen Prune or Prune d'Ente.
This sort of plum or damas Prune is the result of one of the Dama plum varieties. It was brought back by the Crusaders on their return from Jerusalem. The name arrived in France by the Alsatian Zwatchga and has been simplified in Questche.
Formerly served as vegetables (dried and accompanied by a piece of bacon); today we will appreciate them more in a pie or clafoutis as in these recipes of Purple Plum Clafoutis and Plum Marmelade in a crepe or Brandy.
The Plum is your health ally and, despite what is believed, its glycemic index is moderate. Finally, it has a wide variety of vitamins and minerals, which is why it is still part of the sports nutrition.
So, Bon Appétit at Laclassedecuisine.com !