Les pommes de terre nouvelles, appelées aussi « pommes de terre de primeur », sont des pommes de terres commercialisées avant complète maturité. Elles présentent généralement des tubercules de petite taille, à la peau fine et « peleuse », qui se détache facilement sous le doigt, et, contrairement aux pommes de terre dites « de conservation », sont inaptes à la conservation au-delà de quelques jours.
Pleine de vitamine C et de fibres, la pomme de terre nouvelle reste légère, à condition de la cuisiner avec finesse ! Et en plus elle se mange avec la peau, pour une préparation express.
A la vapeur, avec une touche de beurre frais ou d'huile d'olive, elle devient vitaminée et, en la relevant de ciboulette, d'ail ou d'oignon, vous vous protégez contre les inflammations!
Aujourd'hui, avec cette recette originale de Frites Maison au Four, délicieuses, on limite l'apport de lipides car on fait pré-cuire les pommes de terre à la vapeur.  Merci à ma copine Violette pour cette super idée…
C'est plus long à faire, mais bien moins gras et plus digeste!
Alors à très bientôt sur la Classe de Cuisine!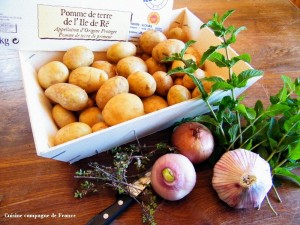 The new born potatoes, also called "Primeur potatoes" are potatoes marketed before full maturity. They generally have small tubers, with thin skin and "peeler", which comes off easily under the finger and, unlike potatoes called "conservation potatoes", they are unfit for conservation beyond a few days.
Full of vitamin C and fiber, the new born potato is light, depending on the way of cooking! And it is eaten with the skin, for an express preparation.
Steamed, with a touch of fresh butter or olive oil, it becomes vitaminised and, when presented with chives, garlic or onion, you will get protected against inflammations!
Today, with this original and delicious Homemade Oven Roasted French Fries recipe, we limited its fat because it is pre-cooked by making steamed potatoes. A special thank you to my friend Violette for this great idea … It takes a bit longer, but it is less fat and easier to digest !
So, See you very soon at La Classe de Cuisine !