As we are on the eve of Saint Nicolas Feast, Christmas markets are settling and the 24th of December is just around the corner. I give you here my Gingerbread recipe, you may be surprised by the use of spices, but let me reassure you, it will only add dreams and poetry to the cooking!
Especially celebrated in northern Europe, Saint Nicolas is the Saint patron of Lorraine, a region in France. When celebrating Saint Nicolas, children traditionally receive gingerbreads, chocolate, and clementines.
In respect to this tradition, let's make our children small gifts such as these Gingerbread Men. We may not all be keen to eat these treats, and would preferably feast with these Scallops & Shrimps with Ginger, which are a delicious stimulant ! …
Bon appétit at Laclassedecuisine.com !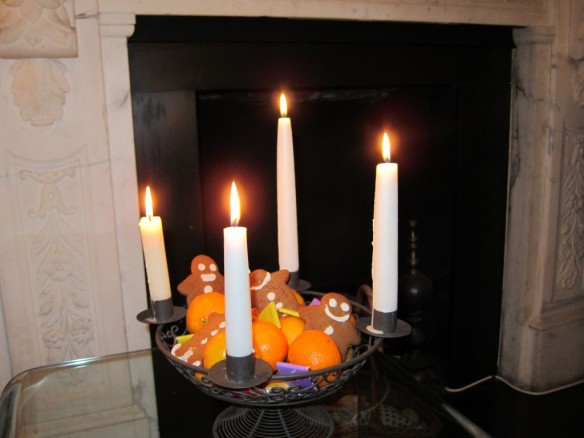 Comme nous sommes à la veille de la Saint Nicolas, que les marchés de Noël commencent à s'installer, et que le 24 Décembre arrive à grand pas, je vous donne sans attendre ma recette de Pain d'Epices. Tous ceux qui ne l'ont pas encore essayée seront peut-être étonnés par l'utilisation d'épices, mais rassurez vous, cela ne peu que ajouter du rêve et de la poésie à la cuisine !
Surtout fêté dans le nord de l'Europe, Saint Nicolas est aussi le Saint Patron des Lorrains… A la fête de Saint Nicolas, les enfants reçoivent traditionnellement du pain d'épices, du chocolat, et des mandarines.
Aujourd'hui est donc l'occasion de leurs faire des petits cadeaux comme par exemple ces Bonhommes en Pain d'Epices. En revanche, nous adultes sommes peut-être moins attirés par ces friandises, et serions plus enthousiasmés par ces délicieuses Noix de St. Jacques & Crevettes au Gingembre, excellent stimulant d'ailleurs…
Bon Appétit sur laclassedecuisine.com !