Le printemps pointe sa tête et c'est tout le panier qui repasse au vert : Les jeunes pousses de cresson, le poireau crayon, les oignons nouveaux, les herbes parfumées et les légumes longilignes. Une vraie cure de chlorophylle !
Coté primeurs : Pommes de terre et carottes nouvelles, artichauts, navets, poireaux et radis apparaissent.
Mais en mars, il ne fait pas encore bien chaud et l'on apprécie toujours encore une viande en sauce, comme la Cocotte d'Agneau et Pommes de Terre Nouvelles que je vous propose aujourd'hui.
Le gibier disparaît des étalages, mais poulets, canards et pintades sont toujours là. Pour les poules, c'est la période de pleine ponte qui commence et donc la qualité et la grosseur des oeufs augmentent. Pourquoi ne pas essayer l'omelette folle à la roquette. Plat faisant une entrée remarquée avec le coté printanier des beaux oeufs de poule et un petit bouquet de fines herbes que l'on retrouve dans le mélange de salade que l'on appelle aussi "Roquette".
Alors dites-moi vite ce que vous en pensez et à bientôt sur La Classe de Cuisine !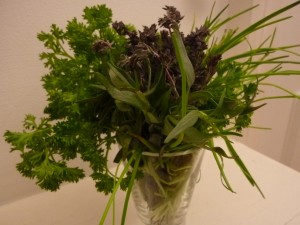 Spring is in the air and that means that the basket comes back to the green: The young shoots of watercress, leek pencils, spring onions, fragrant herbs and vegetables slender.
A real cure of Chlorophyll!
Listed spring veggies: New potatoes and baby carrots, artichokes, turnips, leeks and radishes appear.
But in March, it is not yet real warm and we always appreciate even a meat with its sauce, such as Lamb Casserole and New Potatoes that I propose today.
The game stalls disappears, but chickens, ducks and guinea fowl are still there. For hens, it is the full laying period and therefore the quality and size of eggs increase. Why not try the Crazy herb salad omelette. A dish making a great entrance with the spring coming, thanks to the beautiful chicken eggs and a small bunch of fresh herbs found in the salad mix also known as "Aragula herb Salad".
So tell me quickly what you think and see you soon at La Classe de Cuisine !