Tonique et adoucissante, la banane permet à l'organisme de récupérer rapidement après un effort physique ou intellectuel intensif. Elle est conseillée, en collation, pour les étudiants et sportifs grâce à ses sucres vite assimilés par les cellules musculaires. Elle est très nutritive, facilement digérée si elle est consommée mûre et de façon naturelle.
Consommée régulièrement, elle apporte un bienfait non négligeable lors de coups de blues, comme dans les changements de saison par exemple…
Enfin, elle aide en cas de crampes musculaires et dans les problèmes articulaires. Consommée crue ou en Smoothieou encore cuite, comme dans ce Cake bananes chocolat, la banane est un vivier de vitamines et minéraux.
Alors, à très bientôt sur laclassedecuisine.com !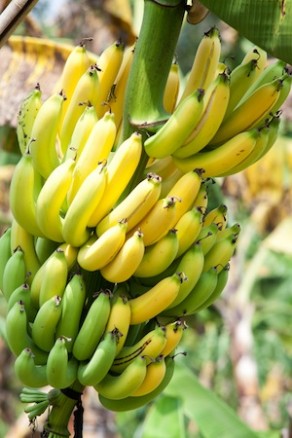 Tonic and soothing, bananas help the body to recover quickly after an intensive intellectual or physical exercise. It is recommended, as a snack for students and athletes, thanks to its sugar, quickly absorbed by the muscle cells. It is highly nutritious, easily digestible if consumed naturally matured.
Consumed regularly, it provides significant benefit when it comes to blues shots, such as seasonal changes, for example…
Finally, it helps to prevent muscle cramps and joint problems. Consumed raw or in a Smoothie or cooked, as in this Banana Chocolate Chip Bread, banana is a reservoir of vitamins and minerals.
And see you soon at Laclassedecuisine.com !