Il y a peu de temps, je vous parlais de l'abondance des oeufs sur le marché dès l'arrivée du printemps, beaux, gros et de toutes tailles, mais je ne vous ai pas parlé des oeufs de caille dont il y a pourtant beaucoup à dire!
Commençons par un peu d'histoire. Dans l'Antiquité déjà, les oeufs de caille étaient connus pour redonner de la vigueur. Depuis quelques décennies, ils sont maintenant utilisés pour leurs propriétés thérapeutiques antiallergiques. De nos jours, ces propriétés ont été démontrées lors d'études cliniques conduites auprès de plusieurs milliers de personnes souffrant de symptômes allergiques, tant chez les enfants que chez les adultes.
Allergie au pollen ou aux acariens de la poussière de maison. Toutefois, à raison de six par jour, la prise d'oeufs de caille frais n'est pas dénuée d'inconvénients. Ce qui a conduit les chercheurs à mettre au point diverses préparations qui sont beaucoup mieux tolérées et qui ne présentent pas les effets secondaires du produit frais.
Aujourd'hui, nous découvrons ces petits oeufs en dehors de l'apéritif; Ils font de jolies entrées ou même des plats originaux comme des Croque-madame de Caille.
Vous pouvez préparer ce plat savoureux pour une petite tablée familiale, car vos enfants vont adorer et c'est prêt en deux temps trois mouvements.
Alors à très bientôt sur La Classe de Cuisine !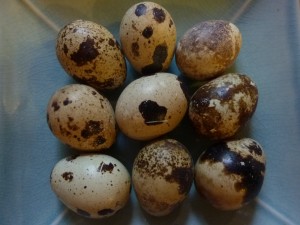 A short period of time ago, I wrote about the abundance of eggs on the market since the arrival of spring. They are beautiful, big and of all sizes, but I did not talk about quail eggs which there is yet much to say!
Let's start with some history. In ancient times, quail eggs were known to reinvigorate. Though in recent decades, they have been used for their therapeutic allergy properties. Nowadays, these properties have been demonstrated in clinical studies conducted by thousands of people suffering from allergy symptoms, both children and adults.
Allergy to pollen or dust mites in dusty houses. However, at six per day, taking fresh quail eggs is not without its drawbacks. This led researchers to develop various preparations that are much better tolerated and have no side effects of the fresh product.
Today, we will discover these little eggs out of the appetizer; They make pretty entrees or even original dishes like Quail Croque-madame.
You can prepare this tasty dish for a small family diner, and your kids will love it. Last but not least, it's ready in a jiffy !
That is why I hope seeing you soon at La Classe de Cuisine…