La préparation des repas est une corvée pour certains mais elle peut être un plaisir pour d'autres. Depuis quelques années, faire la cuisine est devenu, pour beaucoup d'entre nous, un loisir à part entière car nous sommes les premiers à aimer être à l'origine de moments de convivialité et de partage.
Cuisiner est un excellent moyen de déstresser et savoir cuisiner est une activité valorisante à nos propres yeux, mais aussi aux yeux des autres.
Enfin, je dirais même que cuisiner est un outil de séduction imparable qui permet de se mettre en scène et d'exprimer une certaine culture. C'est une forme de communication non verbale. Voilà donc tout un menu…Et comme nous sommes maintenant au coeur du printemps, je voudrais vous proposer aujourd'hui un menu complet, hamonieux mais tellement facile à réaliser en cliquant sur Menus Mai ou Menus Juin. Cela vaut la peine d'essayer et vous serez tellement satisfait que vous y reviendrez!
Et pour vous mettre en appétit je vous propose déjà un Gaspacho d'Asperges et ses Chips de Jambon. Hyper facile à réaliser, surtout que nous sommes en pleine saison avec les asperges vertes qui se trouvent aussi bien à Paris, à Londres, à New York, ou au Québec. Alors retrouvons-nous vite sur La Classe de Cuisine !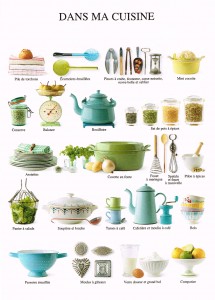 Preparing meals is a chore for some but it can be a pleasure for others. In recent years, cooking has become, for many, a leisure activity because we are the first to enjoy being at the origin of moments of warmth and sharing. In one word, conviviality.
Cooking is a great way to relieve from stress and knowing how to cook is a rewarding activity to our own eyes but also to others'.
Finally, I would say that cooking is an unstoppable tool of seduction that can take the stage and express a certain culture. It is a form of non verbal communication. So that's a whole story… And as we are now in the heart of spring, I'd like to propose today a full menu, combining tradition but so easy to do by clicking on May Menus or June Menus. It's and you'll be so pleased that you will come again.
To whet your appetite, I suggest you have this Asparagus Gazpacho and Prosciutto Chips. Super easy to accomplish, especially as we are in full season with the green asparagus that you will find easily in Paris, London, New York, or Quebec. So find us quickly on La Classe de Cuisine!