La Cuisine et la Littérature! Quand ces deux arts se rencontrent cela peut donner bien autre chose que juste de la cuisine…
Il y a, bien sûr, les classiques, comme Le festin de Babette de Karen Blixen, l'histoire de cette domestique qui prépare un dîner français pour ses patronnes norvégiennes après avoir gagné à la loterie.
Impossible cependant de parler de cuisine et de littérature sans citer le fameux roman de Joanne Harris, Chocolat, dans lequel on découvre comment l'ouverture d'une confiserie dans un petit village peut semer la zizanie entre les habitants. Ce livre est surtout une jolie leçon de tolérance… Côté anglais, Julian Barnes n'hésite pas à raconter ses progrès et ses échecs culinaires dans Un homme dans sa cuisine et nous livre le secret de ses réussites.
Les livres peuvent aussi raconter une cuisine exotique, et la B.D. autrement dit la bande-dessinée, sait aussi nous faire saliver. je vous recommande "En cuisine avec Alain Passard" chez Gallimard de Christophe Blain. C'est un vrai livre de cuisine, l'humour en plus. Une vraie BD. Un bijou d'autodérision. C'est un livre sensuel et gourmand.
En accompagnement d'une lecture culinaire que je vous laisse choisir selon vos préférences, je vous propose une recette au chocolat à savourer. Voici donc le Lingot au Chocolat que vous pourrez couper en cubes pour le déguster par petites bouchées et… compléter l'apéritif dînatoire de notre récente lettre.
Bon été et à bientôt sur la Classe de Cuisine!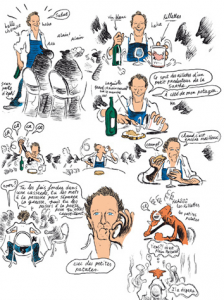 Cuisine and Literature! When these two arts meet this can result in much more than just Cooking …
There are, of course, the classics, like Babette's Feast by Karen Blixen, the story of this house cook who prepares a French dinner for her Norwegian patrons after winning the lottery!
However, it is impossible to talk about cooking and literature without mentioning the famous novel by Joanne Harris, "Chocolat" in which we discover how with opening a Chocolaterie in a small village comes controversy between people. This book is mostly a nice lesson about tolerance … On the English side, Julian Barnes does not hesitate to share his progress and failures in cooking with "The Pedant in the Kitchen".
Books can also share exotic cuisine, but the comic that is to say comic strip, can also be mouth watering. I recommend "In the Kitchen with Alain Passard" by Gallimard from Christophe Blain. This is a real cookbook, humoristic and much more. A real, but fun comic book. A gem of self-mockery. This book is sensual and gourmand.
As a side to your culinary reading, according to personal preference, I propose today a recipe for chocolate lovers, that most of us are. Enjoy the Chocolate Ingot that you can cut into cubes and eat as small bites … to complete your dinner buffet apetiser in our recent newsletter.
Have a nice summer and see you soon at La Classe de Cuisine !