What to drink with… is often the question we have in mind when we start cooking.
Duck is for example a wonderfully rich meat, but when it comes to finding a wine to go with, you need something with a streak of freshness that can slice through the richness of the meat. A classic Red Côte-du-Rhône with its abundant fruit flavours of stewed blueberry, raspberry and plum. Another rich and savoury wine that also ages very well would be a red Burgundy but that is not overpowering and matches well a classic dish as Poached Eggs in Red Wine, Meurette Way and this upgraded Duck Confit in a Pie.
Sometimes when you try a wine in a dessert, something special happens. Here the Pears in these Pears Poached in Red Wine brings out an orange strand in the wine that is lovely. Prepare it a day in advance to allow the colours and flavours to soak into the fruit. And…
Bon Appétit with Laclassedecuisine.com !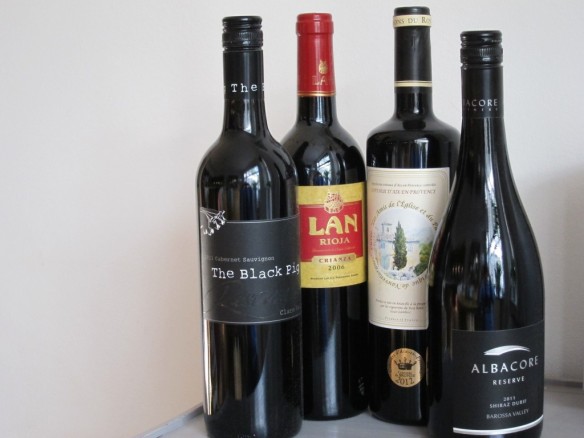 Que boire avec ça… est souvent la question que nous avons à l'esprit quand on commence à cuisiner.
Le canard est, par exemple, une viande merveilleusement riche, mais quand il s'agit de trouver un vin pour l'accompagner, vous avez besoin de quelque chose avec une note capable de surmonter la richesse de la viande. Un Côtes-du-Rhône rouge avec des arômes fruités de myrtille, de framboise et de prune fera parfaitement l'affaire.
Une autre association peut être citée, comme ici avec les Oeufs en Meurette, ou avec le Parmentier de Confit de Canard. Dans ce cas, un Bourgogne Rouge, vin savoureux qui vieillit aussi très bien, serait idéal.
Parfois, lorsque vous utilisez un vin pour un dessert, quelque chose d'inattendu se produit. C'est ce qui se produit ici avec les poires dans ces Poires Pochées au Vin Rouge. Elles apportent une touche d'orange au vin, ce qui est très agréable. Préparez ce dessert un jour à l'avance pour permettre aux couleurs et saveurs de gagner tout le fruit. Et …
Bon Appétit avec laclassedecuisine.com !